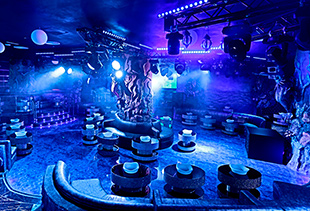 New to the Radisson Blu Hotel in Dubai, the Morjana nightclub offers high-end sound, light and visuals to deliver its 'bottom of the sea' theme.
The 800-capacity venue called on Pulse Middle East Trading to mastermind its technical fit-out, and chose to drive its sound system with Powersoft's processor-controlled K3 amplifiers. The combination of TW Audio and Powersoft made it possible to produce undistorted and evenly distributed sound up to 143dB, as well as taking advantage of the power saving and optimisation properties of the K3 DSP+AESOP 2.8kW two-channel power amplifier.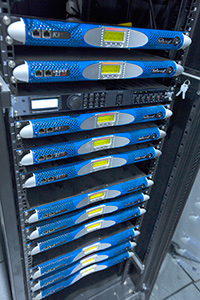 'That a quarter-size rack could power such a massive installation, and one of the largest clubs in the UAE is amazing,' says Joe Chidiac, audio specialist and managing partner at Pulse. 'The benefits were clear from both an installer and integrator point of view,'
A 12U-high rack, holding 12 K3 DSP+AESOP can comfortably produce 70kW using TW factory presets routed and remote controlled and monitored by Powersoft's Armonía Pro Audio Suite software. 'With the built-in DSP, we just needed to link the amplifiers together in stereo mode, back to the DJ booth without going through any external processors,' Chidiac says. 'Each K3 channel can be controlled individually and the complete sound processing tailored without getting limited to a specific control mode.'
The result is that while the system typically outputs 130dB, evenly distributed throughout the club, the Powersoft K3-DSP+AESOP is using just 50 per cent of its available power and saved 40 per cent on the power consumption compared with comparable alternatives.
'We are increasingly seeing installations where factors such as extreme power density, reliability and manageability – all areas in which the Powersoft K-Series excels – are becoming increasingly important,' says Powersoft EMEA Regional Manager, Karl Kahlau, 'The necessity to minimise the equipment footprint becomes significant.'