The musical adaptation of Alice Walker's novel The Color Purple and film by director Steven Spielberg also makes a good stage show. Set to a score featuring jazz, ragtime, gospel and blues, it is currently being stages by the Hillbarn Theatre in San Francisco with a combination of wireless mic, DSP and audio networking technology from Lectrosonics.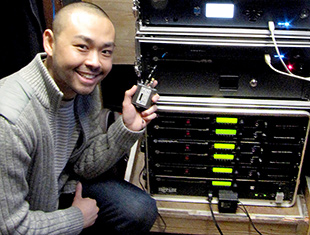 Sound Designer Alan Chang, of audio production services company for broadcast, theatre and special events Coral Canopy, was brought in to serve as the sound designer and mix engineer. For wireless microphones on the production, he chose 23 Lectrosonics SMV and SMQV Super Miniature beltpack transmitters as well as LMa beltpack models. On the receiving end, he picked five fully stocked Lectrosonics Venue receivers with a combination of VRS and VRT receiver modules configured for Narrowband, Wideband Mid and Wideband Low performance. Additionally, a Lectrosonics UMC16B UHF Multi-Coupler was used for RF antenna distribution. This equipment was used in conjunction with DPA 4061 and Countryman B3 microphones.
'The Color Purple is a three-hour-long musical, which entails very precise battery management that no other manufacturer offers,' he explains. 'One example is Lectrosonics' remote capability to sleep the transmitters for battery conservation by playing a series of tones and beeps from the RM Remote or from the LectroRM app on a smartphone. In addition, the RM remote and LectroRM have the capability to change audio gain levels, frequency channels, RF power levels and locking features. This is a tremendous amount of capability that is particularly useful in theatrical environments where you don't want to disrupt wardrobe.'
For signal management, Chang used a Lectrosonics Aspen Series SPN1612 16-input/12-output digital signal processor to handle the majority of the music and vocal performances and some sound effects cues. He also placed a DM812 8-input/12-output Digital Automatic Matrix Processor for the sound effects driven loudspeakers. Further, he used a Lectrosonics DNT0212 Dante network processor for sound effect playback through two networked computers (an Apple MacBook Air and a Mac Mini) and provided reverb processing and enhancement for the vocals.
'With the Aspen processors, the amount of internal mix busses that one is able to create is very impressive,' he says. 'I also like the unit's flexible internal matrix routing capability that enables a sound designer to create interesting and artistic sound system design.
'We needed to specify a sound-friendly system design for The Color Purple that enabled us to have networked computers controlling sound effects cues as well as system management. The Lectrosonics Aspen and DM processors were ideal for this purpose, and Lectrosonics technical support services were great in their ability to assist us. Between the power of the audio processing systems and the sound quality and versatility of the company's wireless microphone systems, we created a set-up that sounded terrific and delivered without any dropouts or hiccups. Everything proceeded very smoothly. With the use of Lectrosonics gear, we've been able to help this production deliver its very best.'
The Hillbarn Theatre's production of The Color Purple was directed by Lee Foster, with musical direction by Greg Sudmeier and choreography by Jayne Zaban.