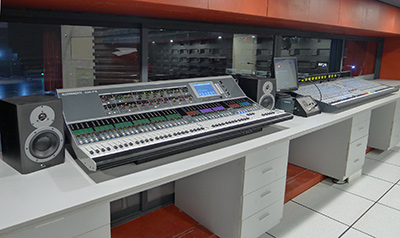 Staging musicals, operas, drama, entertainment, exhibitions and general commercial events, the Chongqing Guotai Arts Centre covers a total area of 36,000-sq-m. Reflecting the variety of its use, the centre has recently replaced the analogue Allen & Heath GL3800 mixing desk at FOH in its theatre with an A&H iLive digital mixing system, comprising and iLive-176 surface and iDR10 MixRack.
'The analogue-style strip design on iLive made it an easy transition,' says the centre's sound engineer, Chen Le. 'The output group, aux and matrix operation is as easy as they are on a GL3800, and all with third-octave GEQ. Operating iLive is so simple.'
Sanecore Group installed all the audio systems, which serve not only the auditorium sound reinforcement system, but also the public address, intercom, recording and broadcasting systems.
'At the end of the first show in Guotai Arts Centre,
Zhuzhi Fengliu
, both the production team and sound engineers praised the perfect sound quality and said iLive was very easy to use,' says Chen Le.
More:
www.sanecore.cn