Working on Linkin Park's The Hunting Party album, US mixer/engineer/producer Ethan Mates recorded much of the material at Larrabee's new Studio 4 on an SSL 4000G console, with Andy Wallace handling mix duties in the facility's SSL 9080K room. At the same time, Mates was looking for a suitable mixing console to tie his personal studio in Los Angeles together…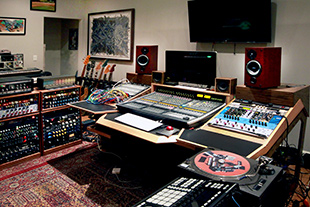 'I've always had some kind of studio at home, but I've never really mixed there – just tons of editing, production, programming, writing for film and things like that,' he says. 'I didn't want to be completely in-the-box anymore. In searching for my console, I knew I wanted to have an SSL stereo bus, so that I would be summing through an SSL. That was imperative to me. Matrix seemed the obvious choice.'
Mates' varied career has included recording and mixing artists including Tupac Shakur, KoЯn, Red Hot Chili Peppers, Stone Temple Pilots and The Doors. He has been using SSL equipment since the early 1990s, when he meticulously sliced and diced composite vocals in 4000G+ rooms for a number of 'pop divas', under the tutelage of Ric Wake in New York.
'The first couple of projects I mixed on the Matrix were smaller, more organic sounding, and I ended up taking it as a challenge to mix them the way that I used to do – rough mixes and just mixed it all by hand,' he says.
'I'm still learning things like A-FADA mode, but it was a really cool experiment – and a lot of fun. I really like having the routing capabilities of Matrix and the dedicated tactile monitor section. The big green button for flipping between analogue and Pro Tools control is awesome. It makes a huge difference to my hybrid workflow. Plus, I totally love having 40 inputs on mix down, should I need them, and I have the Matrix effects returns all filled up with Pro Tools outputs. So, it's just a really nice package for what I need.'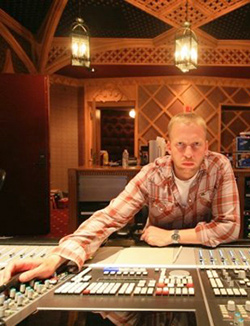 Mates recalls the first time hearing Matrix summing in action, saying it took him back to the 9K series: 'I just put up some stuff through the 2-mix, that I knew what it sounds like at the studio and was like, yeah, this sounds like SSL, this sounds totally familiar to me. Nothing exaggerated and nothing new, just familiar. I feel like I'm working on an SSL console with Matrix. The summing just lends this beautiful, collective, cohesive distortion.
'One of my main problems – and that of all engineers, I think – inside the box has not always been the sound of individual channels, but rather summing through master faders. That's when things start to fold and not be as big and cool anymore. The more you can spread out the mix and have it in the analogue domain, just so that it has that extra headroom to breathe, the better. With Matrix, that classic clean wide-open SSL sweet spot is clearly there. That's the key to the whole thing for me.'
With renewed confidence in his studio, Mates regards Matrix as a shrewd selection: 'I'd say maybe one out of every six clients that I have has the budget for me to sit in a huge room for mixing,' he says. 'So, if I'm not going to be in a huge studio, or I don't want to pay $2,000 a month in air conditioning and electrical bills to have a G-series board in my room, this is the best possible solution. Even if I'm doing rough mixes or programming and I need to send somebody something, just being able to have the kind of quality that translates to other SSL studios all the time – it's very important.
'So much of having skills as a mixer, producer or whatever is about having a foundation that you can work off, where there are just certain things that you know are right and sound right. When you're mixing in-the-box, you're constantly second-guessing your decisions. Having something like Matrix, where it sounds immediately familiar and I know how hard I can hit the bus and I know what the gain staging is going to be like, it just really makes you feel at ease and not have to worry about it at all.'
More: www.solidstatelogic.com