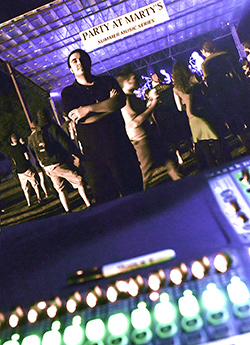 In addition to its album production, mixing and mastering work, Studio Metronome Studio Manager/engineer Brendan Connors records live shows at remote locations around Brookline, New Hampshire.
Recently, the acquisition of a Soundcraft Si Expression 3 mixing console has added to the portability of an operation that has already served the likes of The Pixies, Peter Frampton, Black Eyed Peas and Warren Haynes, Brendan accordingly requires world-class equipment.
'While I plan on exploring more Madi remote control options, I am already impressed with many of the digital capabilities of the Si Expression 3,' Connors says. 'It sounds better and with a smaller footprint than other brands within this price range, and the other boards I've tried also did not have recall capabilities that are as robust as those of Soundcraft.'
The console's Madi option card makes it compatible with the Madi-based infrastructure of the studio's location recording and studio equipment.
Connors also creates real-time broadcast mixes while multitracking the concerts for touring artists, allowing him to deliver properly mixed and mastered CDs immediately after the show. Audience members often have the chance to take home the live recording of the show they just attended or purchase it online. Hence, ergonomics are critical for delivering flawless mixes and keeping track of every element of the recording.
'Coming from a Yamaha console, I really enjoy the intent behind the layout,' he says. 'I basically mixed a show with the Si Expression one-and-a-half hours after I took it out of the box. Also, I love the FaderGlow feature, because it makes it easy for me to separate monitors from effects with just a glance. The intuitiveness of the board allows me to provide more comprehensive services for my clients.'
More: http://studiometronome.com
More: www.soundcraft.com