The confines of the Hook Head lighthouse in County Wexford – the oldest intact operational lighthouse in the world – placed tight limits on the choice of equipment chosen by Recks Audio for a one-off outside broadcast for UK national radio station Today FM recently.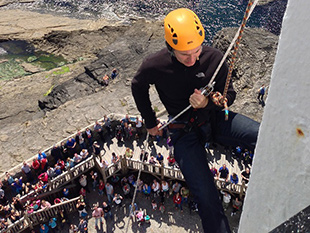 The three-hour radio show included the presenter abseiling down the lighthouse (while presenting) and a live band performing inside the lighthouse, as well as the production of the daily radio show itself. The system chosen for the job called on a 32-channel Roland M-200i live digital mixing console configured with an S-1608 Digital Snake Despite its small footprint, the set-up provided enough inputs and outputs to handle both sends and returns for mics, band and broadcast. The desk was connected via Cat5 cable over two floors of the lighthouse, with the iPad controllable M-200i proving particularly useful for soundchecking the band in the unusual shaped performance room.
The first two-and-a-half hours of the broadcast came from inside the building with the last 20 minutes broadcast from the top, culminating in the presenter's abseil. The M-200i was positioned half way up the lighthouse with the S-1608 Digital Snake at the top, with the unobtrusive Cat5 cable running down the 192 steps between. The radio mic and IEMs used by the abseiling presenter were connected to the S-1608 and the programme itself was broadcast using the M-200i. The M-200i was also used for mixing and broadcast of the live band.
Recks Audio was also contracted by Riverside TV to use its Roland M-300 live digital console and the R-1000 standalone recorder for a TV outside broadcast recently. The M-300 forms part of the Riverside TV ROB1 five-camera HDOB Unit and KA band satellite uplink. This purpose-built utility features five HD fibre camera channels with full camera control and power along the fibre, which can handle multi-track audio for live mix to broadcast and recording for later postproduction if required.