Set in the gardens of Firenze's Bardini Museum, the inaugural Diffrazioni Multimedia Festival is 'a project dedicated to the languages of contemporary art, the boundaries of poetic expression and research technology where new instruments, new scenarios and deep inner emotions meet'.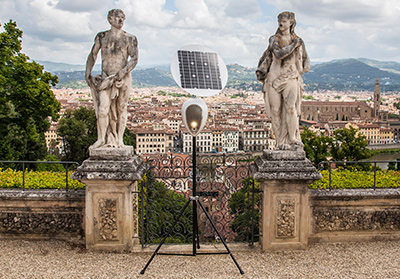 Among its highlights, Alfonso Belfiore's 'Spawn Make the Game' used images of visitors to offer a 'metaphor for life'. To do this, it called on Powersoft's Deva, a proprietary multifunctional device that enables audio messaging and video capture. Each of the six solar powered Deva devices placed around the museum gardens has an array of sensors – microphone, presence detector, twilight switch, temperature/humidity/pressure measurement – and accessories such as LED lights, that enabled them to play out music files in response to visitors' presence while taking pictures and communicating with each other. Each Deva then transmitted video frames via wi-fi to a computer, which stored the captured 'memories' and, through an algorithm in Max/MSP, was able to recompose them in movie sequences.
'As in a video game, the appearance of a new character [Spawn] is the event that opens up new possibilities and opportunities,' Belfiore explains. 'Thus, for the visitor, the discovery of their image within the work is the acknowledgment of the inevitable participation of one's being to the history and life, while the transfigured vision of its image fully reveals new aspects of their identity with the eyes of others'
Alongside 'representing a kind of gateway to an unreachable world', Deva's role in the artwork was an exploration into new possibilities opened up by the convergence of technologies – audio and video playback, wireless connectivity, renewable power sources and interactivity.