Counting Willie Nelson, Alison Krauss and T-Bone Burnett among its clients, Nashville's Sound Emporium Studios was built by 'Cowboy' Jack Clement in 1969. Among the recordings it has hosted are are Kenny Rogers' The Gambler and REM's Document, as well as Sammy Davis Jr's final album and Taylor Swift's first. To meet the current needs of these artists, the studio called on Rob Dennis at API reseller Rack-N-Roll in search of a new analogue mixing console.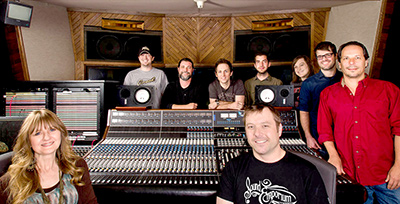 'Our clients have long requested an API in that room,' says Studio Manager Juanita Copeland, and Dennis was in agreement, suggesting a 48-channel Legacy Plus console.
'The flexibility, build and sonic quality made it an easy decision,' Copeland says. 'It brings together a lot of great API sonic solutions into one user-friendly package. Having the 2500 bus compressor is icing on the cake.'
Copeland also mentioned having 48 inputs, 48 returns, and 12 aux inputs is a huge improvement to the studio's former set-up. The room can also be used for mixing now thanks to the Uptown 2 automation.
Since commissioning the console early in the summer of 2014, it's been used for tracking, overdubs and mixing. The desk is also booked for major clients in the coming months, including 'one of the top 100 guitar players of all time' and a 'critically-acclaimed alternative country artist'. Recordings for the ABC TV show Nashville are also booked for when filming resumes this month.
'We are just thrilled to finally have such an amazing console in that historic room,' adds Copeland.
More: www.apiaudio.com