After relying on its acoustics and temporary sound systems79 years, the Oregon Shakespeare Festival (OSF) in Ashland has opted to use a full reinforcement set-up in its 1,190-seat Allen Elizabethan Theatre for the first time.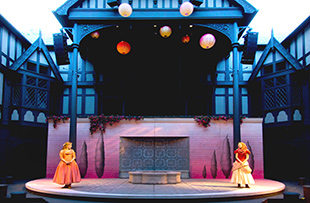 With a stage house and thrust stage built for non-amplified performances, the outdoor theatre has an 'architecturally pleasing' loudspeaker system from Meyer Sound, a Yamaha CL5 digital mixing console, and 32 channels of Sennheiser 2000 Series wireless systems with G3 beltpacks and MKE II Gold lavalier microphones. All components were selected to prioritise vocal clarity and musicality.
'For a language-based theatre company such as ours, nothing is more important than to hear the words with clarity. The system has completely changed the experience for both artists and audience,' reports OSF Artistic Director, Bill Rauch. 'The amplification is so subtle in the Shakespeare plays that the audience often cannot tell the actors are amplified, but they appreciate hearing and understanding every word.'
The adoption of a full reinforcement system was prompted by factors including the scheduling of more musicals, concerns about comprehension of Shakespearean language, and the directors' desire to free the actors from always facing forward to project. With the repertory theatre changing the complete set daily, it was important to OSF that the system blended into the architecture without being incorporated into the scenic design.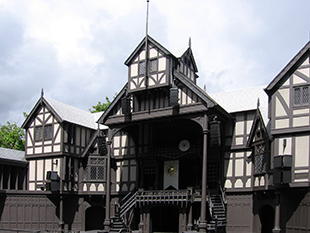 OSF's audio staff worked with Meyer Sound to design a visually unobtrusive solution using split centre arrays of Mina loudspeakers, with two arrays of seven covering the orchestra and two of five covering the balcony. Outer left and right clusters of two-each UPQ-1P and UPQ-2P loudspeakers per side add stereo dimension for music and effects, while four 500-HP subwoofers supply musical low end and convincing effects – such as the giant's footsteps in Into the Woods. 'The singers are able to be heard clearly over a 20-piece orchestra – a revelation on this stage,' says Rauch.
'We've had feedback from audiences about how they appreciate the clarity and the even and natural coverage, and the directors have been ecstatic about what they're hearing,' adds Douglas Faerber, head of OSF's sound department.
In addition, six UPM-1XP, two UP-4XP, and seven MM-4XP self-powered loudspeakers provide under-balcony, box-fill, and front-fill coverage, respectively. System drive, optimization, and delay alignment is supplied by a Galileo loudspeaker management system with one Galileo 616 and two Galileo 408 processors.
Founded by Angus Bowmer in 1935 and recipient of a Tony Award for outstanding achievement in regional theatre, OSF presents an eight-month season of 11 plays in three theatres. Attendance at the approximately 800 yearly performances normally exceeds 400,000. The Allen Elizabethan Theatre was named in recognition of a US$3m grant from the Paul G Allen Family Foundation. The new sound system was made possible by a gift from Judy Shih and Joel Axelrod of Ashland.
Prior to the 2014 season, another new Meyer Sound system was installed in OSF's Thomas Theatre, with flexible use of UPJ-1P VariO, and UP-4XP and MM-4XP loudspeakers.