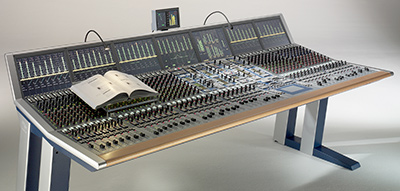 Italian language broadcaster Radiotelevisione Svizzera di lingua Italiana (RSI) has installed a so-called Big Switch at its studio complex in Lugano.
The Big Switch allows flexible interconnection between three sound control rooms and four TV production studios with minimal reconfiguration. All audio signals, signal routing, controllers, logic circuits and intercom systems are included automatically when switching. This enables each of the three sound control rooms units to access the signals from all studios. All three sound control rooms patched to the Big Switch are equipped with Stagetec Aurus consoles.
The Big Switch itself uses a Lawo Nexus network with 22 Base Devices installed in the TV production studios and sound control rooms. Fibre-optic cables connect them to a router that controls the signal routing when switching studios. Systems integrator tpc had previously implemented a Big Switch using Stagetec equipment for RSI in Zurich in 2012 and, by the end of 2014, the Lugano Big Switch is to be extended with another Aurus sound control room and will also be patched to an OB vehicle equipped with an Aurus console.
Basic requirements for such a complex system is that the various Nexus networks being switched are completely identical in structure, and all mixing console systems and their configuration are standardised. The advance planning that this requires is rewarded with simple and seamless switching in everyday operation.
More: www.stagetec.com