The Dayton Dragons Minor League Baseball (MiLB) team presently holds the record for the longest run of consecutive sold-out games in all North American professional sports. Keeping the spectators at its 7,800-seat Fifth Third Field ground, the team recently completed major renovation of its HD video control and broadcast production systems. This included the installation of two RedNet 2 AD/DA and two RedNet 3 digital interfaces for access to and transport of audio signals across the production facility's Dante network at near-zero latency.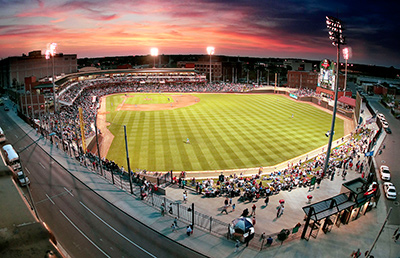 Scott Rohrer – Creative Technologist for Dragons owner Mandalay Creative Services – led the team that designed the new production systems, collaborating with consultant WJHW to write a Request for Proposal and selecting sports venue specialist integration firm Alpha Video Sports & Entertainment.
'The design team initially considered an analogue production structure, but soon realised that it would be too complex and proposed a digital network,' says Rohrer, who is responsible for all aspects of the video production control rooms at each of Mandalay Baseball's five properties. 'We paid attention as Dante came onto the market and really started exploding. Out of that came Focusrite with the RedNet boxes,' he says. 'We didn't do any analogue routing for this facility; all of the routing is done over the Dante network. It saved us a lot of money up front and gave us the exact same flexibility that we would expect out of a router, with a redundant system.'
The control room is divided into two areas, each with separate crews, that generate separate productions from shared resources. One produces HD feeds to the stadium's video scoreboard, closed circuit televisions and in-suite monitors, while the other produces streaming games for MiLB.TV and also delivers 25 home game productions a year to local CBS affiliate WHIO-TV. The four RedNet multichannel audio interfaces are integrated into a Dante network that links a Soundcraft mixing console in each control room and a Sound Devices A/V recorder and other equipment, while providing access to and from the control room's HD video decks and servers.
'Even though we have a few digital recorders that take embedded audio, we still use the Dante system to feed the embedders and route audio that way,' says Rohrer. 'Almost every source in the room can be isolated for recording. All of the replay highlights and master records are multitracked, and that gets provided to Creative Services, which does all of the promotional material for the Dragons. The flexibility of having all of those iso'd tracks is huge when they are putting together promos, highlights and other packages.
'The ability to route audio and access just one channel or a group of channels anywhere on the Dante network offers flexibility that cannot be achieved over Madi or some alternative digital transports,' he says. 'Any network drop in the facility can be a mixing position, a contribution location. We can play back audio from any computer on the network. It's ridiculous how flexible it makes the system, putting everything on Ethernet connections.'
More: www.focusrite.com