The Taiwan leg of Masaharu Fukuyama's We're Bros Tour 2014 hit gave MSI Japan Taiwan the opportunity to debut its Martin Audio MLA loudspeaker system in country capital at a recent show at the Taipei Arena.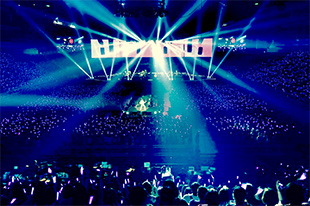 Since the Japanese artist had used the MLA system for the Japanese leg of his tour, he wanted to retain continuity with the technology – a combination of multi-cellular control and progressive optimisation software – which has already proven itself in Japan and whose reputation is quickly spreading through all the Asian countries.
The outing proved a success for MSI Japan Taiwan – part of the MSI Japan HD Group, which set up a new office in Taipei several months ago – allowing the production company to run the concert without delay towers. MLA again showed that it can provide consistent sound pressure level and frequency response throughout a large venue.
'The difference between MLA and conventional systems is that I can mix with detailed balance, even if the FOH position is 100m away from the stage,' says FOH engineer, Takashi 'White' Murata.
A member of the audience, seated in the top row of the venue, agreed that she had never experienced this quality of sound during a concert at this venue.
'The Asia market is gradually waking up to this brand new MLA technology,' says MSI Holdings President, Shuzo Fujii. 'I believe that the trend in touring loudspeaker technology worldwide will eventually move towards this kind of multi-cellular array principle.'
More:
www.msi-japan.com