With Arcade Fire, Volbeat, Seeed, Kraftklub and Fettes Brot on the bill and around 70,000 fans in the audience, the Hurricane Festival is one of the biggest music events in Germany.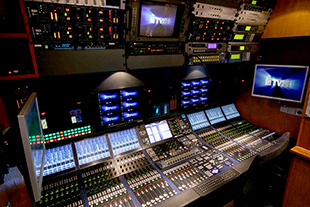 Taking care of the TV broadcast, TVN Mobile Production rolled its Ü3 OB truck (equipped with a Lawo mc²66) and set up a mobile control room (with a Lawo mc²56) int Scheeßel to mix the live sound from the two main stages and make multitrack recordings for later broadcast.
TVN undertook its first festival work in 2005 and won the Wacken Open Air event (the largest heavy metal festival in the world) in 2006. The Hurricane festival became a regular calendar fixture in 2008. While his senior position puts at TVN Audio Manager Stephan Thyssen in charge of a 23-strong TVN-Audio team, he handles the mix himself for these productions. Thyssen joined TVN in 1998 as an experienced live sound engineer, and even then saw the opportunity of opening new markets with the company's OB vans. In order to ensure high-quality live broadcast mixes, these vehicles were equipped with Lawo consoles and peripherals.
As the trucks are also used for sports and entertainment events, they are reconfigured for festivals. For example, in addition to digital Madi links, there are around 300 analogue audio channels at Hurricane that need to be levelled and line-checked to ensure that the setup schedule is met. 'A crew with good stage experience can handle the pressure of many parallel tasks, as well as the short-term postproduction of the recordings – such as repairs to the live mix for repeats or time-shifted broadcasts,' Thyssen says.
The broadcast sound is fed separately from the stage rather than splitting the FOH mix that goes to the PA, and is mixed in the truck and the mobile control room for live broadcast on 3sat, ARTE, and ZDF or recording. When the recordings require editing, the OB is booked for a week after the festival. 'This is important for any band, but especially for those who are promoting songs of a new CD live on stage, as Kraftklub did this year,' says Thyssen.
Routing capabilities were a critical consideration in the choice of consoles for these duties. This and the fact that Lawo consoles are widely used were particular advantages, since many of the freelance sound engineers have already worked on them, and need very little training.
'The festival was perfect – and we got the releases from all the bands for TV broadcasts,' says Thyssen.