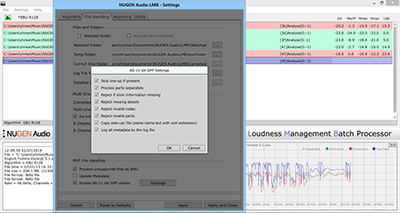 Nugen Audio has become part of the Digital Production Partnership (DPP) initiative, aimed to support UK public service broadcasters' move to fully digital production and distribution for television.
Nugen Audio joins other leading broadcast equipment manufacturers who are working with the DPP and Advanced Media Workflow Association (AMWA) on the AS-11 DPP compliance and certification programme. A subset of the Technical Standards group, the AS-11 DPP programme was launched to help further interoperability and create governance around AS-11 DPP compliance in products.
As a member of the programme, Nugen Audio is helping to develop quality assurance criteria for the AS-11 DPP specification. Specific goals are to reduce interoperability issues when creating and using AS-11 DPP files, provide industry assurance through a consistent expectation of quality and reliability with AS-11 DPP products, determine a compliance test that products would need to meet in order to be considered "DPP compliant", and improve file-based testing knowledge and communications between UK broadcasters and manufacturers.
'Our participation in the DPP Compliance Program is the latest example of our ongoing commitment to supporting our customers in the ever-evolving landscape of loudness compliance,' says Nugen Audio Creative Director, Jon Schorah. 'As file delivery day approaches in the UK, Nugen Audio users can be assured that we will be supporting the AS-11 DPP specification from the outset, with products such as LMB, our Loudness Management Batch processor.'

See also:
Wohler joins DPP compliance programme