Lørenskog Hus is a multi-purpose municipal venue near Oslo, which offers a focal point for the regional community with five auditoria, four cinema screens, seven meeting rooms, a restaurant and a library supporting live productions and hosts conferences, corporate and cultural events, as well as film showings.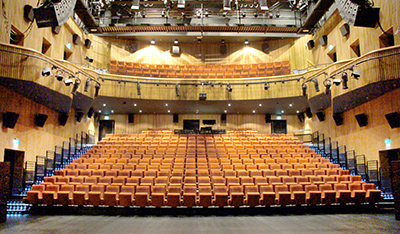 Opened three years ago and covering eight floors, the complex was intended to accommodate performances as wide ranging as choirs, marching bands, symphony orchestras, pop, rock and rap.

'When the venue was built, the goal was to make the acoustics in our main auditorium flexible enough for all genres of music,' says Technical Manager, Kristoffer Engen.

'The problem was that we ended up with a very dry room, which was good for amplified music, but which gave musicians onstage very little acoustic return in unamplified performances.
'We knew that we needed to find a solution for the acoustic musicians, without ruining the excellent qualities that the room has for amplified music. We quickly found that an electroacoustic system was not only the best solution for us, but also the most cost efficient.'
Yamaha's AFC3 acoustic enhancement system was the chosen solution, with the system installed and commissioned by Panpot Acoustic Systems, a company that has made electronic acoustic enhancement systems its core business: 'Although we have used other systems, it was not until we listened to AFC3 that we knew we had a system that could match our very high quality demands,' says Jo Wang, Panpot tuning engineer.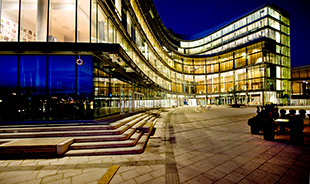 'The fact that AFC3 is a hybrid-regenerative system makes it act as a truly integrated part of the room acoustics, not just as an electronic reverb effect. The audience and the performers are in the same reverberant space and the room reacts just as much to the audience applause as to the performing artists. The communication and connection between the stage and the auditorium is enhanced both ways.'
The Lørenskog Hus installation comprises four different zones – the stage shell, which helps performers communicate better between each other on stage; the reverberation system in the auditorium, which makes the performers feel that they are connecting with the audience and also makes the audience aware of themselves as a part of the same acoustic environment as the artist; the under-balcony zone, acoustically connecting this area to the rest of the auditorium; and an early reflection zone to maintain speech intelligibility and attack in music when bringing more reverb into the room. This part of the system is tuned exceptionally to work with the speakers on stage and in the auditorium.
'Installing a lot of loudspeakers and microphones within the proscenium often conflicts with other equipment such as lightning, trusses and moving stage technology. There are also many different kinds of set decorations that may affect the performance of this kind of system,' says Panpot Tuning Engineer Roy Knudsen, who worked with Wang on the project.
'The Lørenskog Hus system only needed four microphones within the proscenium, plus four more in the auditorium. This made it a lot easier to find suitable locations for the microphones and we have found AFC3 to be impressively consistent, even when moving or taking away stage sets and so on.'
The system has been in use every day since its installation in January 2014, transforming the acoustics of the venue: 'It sounds natural, it's very stable and is very easy to use,' Engen reports. 'Comments from the musicians have been very positive – they feel that they get "help" from the room, and that it feels natural. They also now feel less tired after rehearsals and concerts.'