One of the world's most renowned racecourses, the Australian Turf Club's Royal Randwick in Sydney covers more than 200 acres and boasts a six-tier grandstand and 15 unique indoor and outdoor spaces – which serve horse racing and non-race day events, including conferences, exhibitions, music concerts and entertainment shows. Part of a major refurbishment of its facilities, the club has upgraded its audio with a new system that accommodates than 160 audio channels and more than 60 zones using a low-latency Dante network.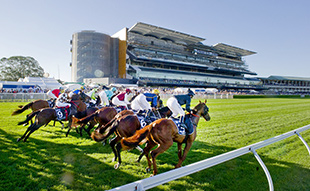 The PA People handled the design and integration, providing multichannel audio and IPTV video services via a single, venue-wide network.

'When specifying the system, it was obvious that Dante was the only networking solution that could give us the scalable channel count required, along with the low latency and excellent sound quality expected,' says Josh Jones, Project Manager at the PA People. He points to Dante's ability to support a wide variety of audio applications on a common Gigabit network as a key benefit to reduce overall cost. His previous experience using Dante was during the Papal visit for World Youth Day in 2008.
The scale of the Dante deployment is impressive – the grandstand has more than ten audio zones per level, with local inputs through corporate suites and special function spaces to accommodate unique audio feeds. The Dante enabled Harman BSS Blu digital signal processing system allows Randwick personnel to distribute and manage a large number of audio channels across the venue. Jones notes that the entire Dante network was easy to set up, test and deploy, saving The PA People hours of labour and related costs. He stresses the importance of this simplicity since the entire solution supports more than 160 channels moving backwards and forwards throughout the racetrack grounds.
The installation extends beyond the grandstand to bookie areas, an owners' pavilion and the Theatre of the Horse parade ring, among other spaces. Additionally, the Dante network extends audio capabilities to the IPTV video element, with sound for each of the 30-plus in-house TV channels distributed as discrete audio feeds. 'There's an audio hierarchy that exists, but ultimately the race call is king,' Jones says. Once the horses leave the starting gate every audio zone receives the race call. The remainder of the time it switches back to the local audio broadcast.'
With regard to future needs, Jones sees plenty of expansion capability in the current configuration: 'We are not yet running at capacity, which means there is plenty of room for Dante to flex more of its muscle,' he confirms. 'With Dante, we were able to use the DSP in the remote BSS units, distributing the processing power throughout the venue. This kind of flexibility gives us excellent scope for growth.'
More:
www.papeople.com.au