Oceans Ten is a nightclub and tourist destination in Miami Beach, Florida, with indoor and outdoor dining areas, live music and DJs, and a prime location on the beach front. While the venue is renowned for the quality of its music entertainment, the audio in the sound in the outdoor dining area was not up that that of the indoor areas. In part, this was because the outdoor loudspeakers had deteriorated from continuous exposure to the beachfront, salt-air environment.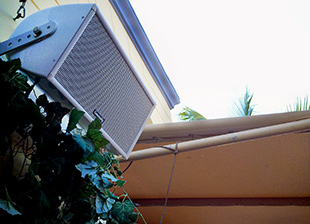 In 2013, Oceans Ten asked James Reed and Michael Callahan of Audio Video Lighting Innovations (AVLI) in Miami to propose a new loudspeaker system that would survive the salt air, while providing high-quality audio for its outdoor dining area customers. AVL Innovations had installed the club's indoor system and understood its commitment to high-quality sound. Reed recommended Community's Wet Series loudspeakers because he knew they would meet the club's high standards while surviving the beach-front environment.
Ocean Ten's new outdoor system consists of six Community W2-2W8 loudspeakers in a distributed array along its sidewalk dining area. The W2-2W8s provide full-range, high-quality sound with wide dispersion, and the colour of the enclosures complements the club's outdoor décor. The new system is powered by a Lab.gruppen power amplifier, and includes a Biamp Nexia DSP for loudspeaker management and equalisation.
Reed says the club is happy with their new outdoor loudspeaker system and that 'it sounds fantastic out there…'
More: www.communitypro.com