Leading Eastern Europe production company Gigant Sound Letus has made a major investment in Outline's flagship loudspeaker range, adding stocks of GTO, DBS 18-2 subwoofers and the all-new GTO C-12 compact line-source module to its inventory.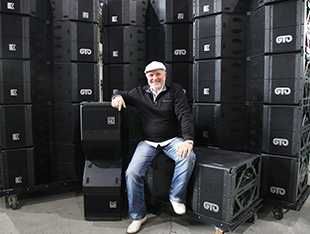 The Poznań-based operation was established in 1993 by Jurek Taborowski, and serves Polish rock, pop and classical productions, as well as work around Eastern Europe and as far afield as the US. A full-time staff of more than 30 also handles domestic television projects and the company's clients include Ricky Martin, Sir Elton John, The Prodigy, Jennifer Lopez, Joe Cocker and José Carreras.
The recent purchase followed research and evaluation of several loudspeaker options: 'For us, it was all about the uncompromising audio performance of the GTO family of products,' Taborowski says. 'We worked with Outline's engineers to create new presets for the DSP control in our amplifiers and that helped to create a system that is more efficient, more transparent and with greater dynamics. When combined with GTO's unique resistance to cross winds, these key points convinced me to buy the system.
'We now have a large enough Outline GTO inventory to handle the largest outdoor events in this region without difficulty, but being able to create integrated systems to suit almost all our work from within a single product family gives us a huge operational advantage'.
With 48 GTO, 32 GTO C-12, 64 DBS 18-2 subwoofers plus 12 flying frames (including the new lightweight FRM-GTO-LW which significantly reduces the flown weight of GTO hangs), the inventory to be split into eight identical subsidiary systems. Each of these, comprising six GTO, four GTO C-12 and eight subwoofers, is powerful enough to handle a range of events with ease but requires little truck space and can also be flown or stacked as required.
'Jurek's clever and forward-thinking approach to buying his GTO inventory validates our whole product family concept,' says Outline CEO, Giorgio Biffi. 'A totally integrated system like our GTO definitely enhances the efficiency and profitability of production companies by allowing them the flexibility to use as much or as little equipment as they need for the occasion. We're also thrilled that Jurek chose us as his loudspeaker partners especially when one considers the quality of the products he rejected – it's great to have him in the family.'