Having counted Martin Audio line array systems in its hire fleet for nearly a decade, Dubai-based Almoe AV Production/Rentals has purchased the first MLA in the UAE – an initial order for 36 MLA and 12 MLX enclosures.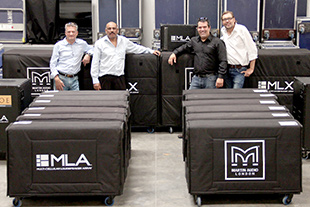 'It was an easy decision to opt for the MLA after we had heard the system, its capabilities and the technology that adapts to the ever changing environment,' says Almoe General Manager, Glen Dougherty. 'Our decision was entirely based on the quality of the system and its future-proof capabilities,' continued Dougherty. 'Our growing business, and the increasing size of events we are called on to service, also required us to look for a larger PA system to cater that requirement.'
Almoe's new MLA made an auspicious debut at the Quality Awards Ceremony, held recently at the Madinat Arena. 'We used eight MLA per side and the system came out with flying colours,' Dougherty says.
'Every event becomes unique as the MLA can adjust its parameters to cover uniformly the whole audience area with incredible precision,' adds Almoe senior sound engineer, Bruno Vitanza. 'Other advantages of MLA are its capability of avoiding areas like reflective surfaces or stage, and minimising spill in complicated venues.'
He says that it can be difficult to appreciate the extent to which all MLA's combined technologies can boost a venue's sound. 'My preference is first to make the MLA behave as a regular Line Array (using Snapshot A) to bypass all the 'magic'; then return to the optimised Snapshot. The difference is pretty incredible.'
Almoe has been using Martin Audio solutions since 2005 with the W8LM and WLXGS, to which they later added LE1200, LE1500, F12s, S15s and F10.
'We have gradually been increasing our Martin Audio inventory,' Dougherty confirms. 'And as demand grows, and the necessity arises, we also expect to purchase more of the MLA components.'
'The purchase of this MLA rig in the UAE region fills an important strategic gap in between our Asian and European MLA users,' says Martin Audio International Account Manager, Andy Weingärtner. 'And with more and more artists and sound engineers putting MLA on their riders this move by Almoe could not have come at a better time.'
More:
www.almoe.com