Currently among the world's highest-ranking DJs, David Guetta, recently played to 20,000 people in the Talinn Song Festival Grounds in Estonia – his only show in the Baltic region. At front of house was a Martin Audio W8LC Compact line array provided by the manufacturers' long-term distributors Audiosky, who were commissioned by production company RLE Concerts.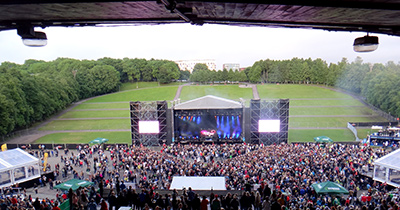 'We have done a lot of gigs for the owner Hardi Loog in both Estonia and Finland – including Pitbull,' says Audiosky owner, Tiit Terask.
In order to provide top quality sound for FOH engineer Carlos Herreros (who also took care of monitor engineer and system tech duties), Terask provided main PA hangs of 12 W8LC boxes (with a single W8LCD Downfill at the base). Out fill comprised eight W8LC, with a single W8LCD Downfill, while four W8VDQ cabinets provided front fill. A total of 48 WS218X subs were arranged in a cardioid delta array to optimise coverage. The rig was powered by a combination of amplifiers including three Martin Audio MA3.0 (for W8VDQ), eight MA18K and eight MA5.2K (for WS218X) – with all amplifiers driven by XTA DPA 448 system processors.
The Martin Audio W8LC Compact Line Array has been used on stages throughout the world since its launch back in 2003 – meeting the need for a high-power, high bass impact system that is versatile and scalable (either in flown or ground-stacked mode).
The main house mix was performed through a 37-channel DiGiCo SD8 (with DigiRack 48/24) while Guetta himself used Pioneer CDJ-2000 Nexus and DJM900 Nexus 1 DJ mixer and RMX-1000 Remix Station – provided by local Pioneer distributor, Peeter Veiken of Digisound.
Having been able to source all the sound reinforcement form his own inventory Terask was delighted to report highly positive feedback about the quality of the sound and general production from both the sound engineers and local promoters.