Some of comedy's best-known sketches and catchphrases are receiving a revival at London's 02 arena – reunited for Monty Python Live (mostly), the Pythons performing ten shows that are being broadcast live to cinemas around the world, as well as being recorded.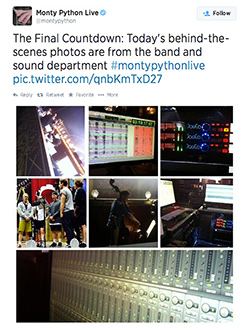 The 'pre-posthumous memorial service' sees John Cleese, Eric Idle,Terry Jones, Michael Palin and Terry Gilliam together again – possibly for the final time. Talk of taking the show to America is being played down with Cleese quoted as saying that 'it seemed better to do it once, really well, in England where it all started'.
Central to the recording operation are three JoeCo BlackBox BBR64-Madi Recorders – the 64-channel Madi systems form part of recording engineer Matt Bainbridge's arsenal of equipment that is being used to record 168 channels of audio split over three Madi streams.
Bainbridge, of BlueCat Professional Audio Consultancy, is responsible for the multitrack recording: 'We needed units that would be reliable, easy to set up and leave unattended at times,' he says 'The JoeCo's fitted the bill perfectly. In addition to their audio quality, the ability to use just one unit as a master device has also proved very useful.'
JoeCo's BBR64-Madi Recorder is widely used for live audio capture and acquisition in a range of performance, broadcast, film and TV sound applications. Occupying just one unit of rack space, the recorder can capture the full 64 channels of Madi data, at standard sample rates, directly to external USB2 drive in Broadcast WAV format, ready for instant re-purposing. Multiple units can be stacked for larger track counts. Audio captured by the BBR64Madi systems at the 02 shows will be used for archive material, or supplementary audio on any future 'live' releases.
The BBR64-Madi Recorders have been supplied for the shows by Richmond Film Services in London.