Recent legs of their 2014 tour of the UK and Europe saw Nine Inch Nails calling on an Adlib L-Acoustics K1 sound system and leading Systems Engineer Tony Szabo – the third time that Adlib has supplied the epic industrial rockers with audio when playing in Europe.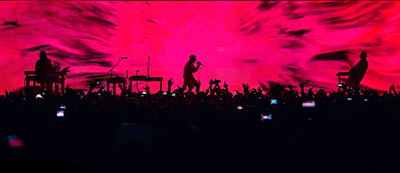 This time around, Szabo worked with NIИ Monitor Engineer Mike Prowda, FOH engineers Gary Bradshaw and Antony King, together with Firehouse Productions' Tim Fraleigh who looked after Monitor World, and Systems Designer Jamie Pollock, who oversaw the FOH set-up.
The sound system was specified by Jamie Pollock and Gary Bradshaw at the start of the tour, and set up and optimised at each gig throughout Europe by Pollock and Szabo. It comprised a front hang of 14 K1 speakers with four Kara downs and an array of eight K1 SB subs flown beside the main hang each side, plus side hangs of ten K1 and four Kara downs. On the floor were 18 SB28 subs with Kara fills on top. All speakers were driven by L-Acoustics LA8 amps and controlled using LA Network Manager.
All of the consoles, system processing, FOH and monitor control were supplied by New York-based Firehouse Productions, which included a DiGiCo SD7 at FOH with Lake DLPs for processing and a Waves server for plug-ins. The monitor console was an Avid Profile. The band travel with their own Shure IEM system.
'It was great to be back working with NIИ,' Szabo says. 'Their shows are demanding on the production front and they require excellence at all times. It's good to work with an artist and crew with that complete focus, ultimate dedication and bigger-picture perspective towards getting the production perfect and ensuring that everyone in the audience enjoys the best live experience'.
The European leg of the tour ran for seven weeks playing arenas starting in Riga and ending in the new Forum venue in Karlin, Prague, and included six key dates in the UK and three festivals.