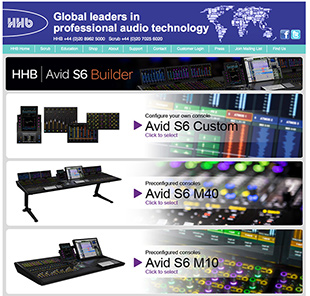 HHB Communications has set up an interactive Avid S6 Builder webpage, allowing custom configurations of Avid's new modular mixing console to be created.
Available via the HHB website, its drag-and-drop functionality lets users arrange modules as a console tailored to their workflow. The S6 Builder's interface walks users through the process, with module descriptions provided throughout. Configurations can then be shared with colleagues or sent to HHB or audio post specialists Scrub for quotation.
Early adopters – who include Soho's Envy Post Production – are already taking advantage of the flexibility and features offered by S6. It is a fully customisable system that can be scaled vertically or horizontally, with room to grow as needs increase. Customers can choose between 12 preconfigured S6 M10 and M40 consoles, or custom configure an M40 with up to 64 faders, nine knobs per channel and a maximum of 41 modules.
The Master Touch Module (MTM) is a multipoint touchscreen that forms the core of the S6 by providing control of multiple functions in Pro Tools and other EuCon-enabled DAWs. Once the frame size is chosen, the MTM determines whether the control surface is an M10 or the more powerful M40. Additional Knob, Process, Automation and TFT Display (M40 only) modules can be selected as required for deep, hands on control of a session with enhanced visual feedback.
HHB and Scrub's Avid specialists can assist with presales workflow and integration consultation, pre delivery and onsite configuration and set up, and after-sales support and training. A 24-fader M40 console is available for demonstration at HHB's 5.1-equipped demo facility in Soho, London.
More: www.hhb.co.uk/s6-builder