After a reported loos of US$1.5m over its 2014 event, Moogfest is understood to have Google, SAS, Microsoft, Red Hat, IBM, Samsung and Intel lined up as possible candidates for underwriting next year's event in order to secure a grant application for US$250,000 from the Buncombe County Culture and Recreation Authority.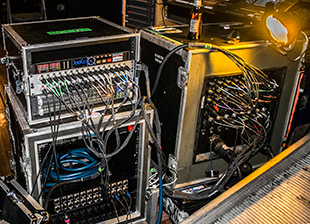 Held in various venues around Asheville in North Carolina, the festival featured more than 100 musical performances, 105 speakers, panels, multimedia installations and public art exhibits and expos. Billed as a 'Synthesis of Technology, Art and Music,' it is the legacy of synthesiser pioneer Dr Robert Moog, and included performances from the likes of Kraftwerk, Flying Lotus, Pet Shop Boys and M.I.A.
The 2014 outing saw live multitrack recordings made at two of the main festival venues – the Diana Wortham Theater and The Orange Peel venue. Moogfest documentation producer KamranV (CEO of CyKiK) and recording producer Nick Tipp (Soniferous) were responsible for overseeing the recording, using a Madi set-up based on DirectOut equipment as main recording systems and broadcast mix systems. Each system included a 32-channel Andiamo.MC preamp, several Breakout panels, an ExBox.UMA, a Ma2chbox and finally a JoeCo BBR64Madi BlackBox recorder, which acted as a backup using the second Madi signal from the Andiamo.MC. The preamps were controlled via Midi by the recording/broadcast mix engineer using Pro Tools, with the ExBox.UMA as the audio interface. The DirectOut Ma2chbox provided an analogue connection to the engineers' monitoring, as well as monitoring broadcast mixes being sent to web broadcasting partner, TechZulu.
'The multitrack recording required a 32 I/O interface with preamps included,' says Tipp. 'Andiamo.MC is the only device on the market that allows 32 mic preamps, outputs for our broadcast feeds, a Madi signal to get our mix engineer far enough from the PA to allow him to mix, plus an additional Madi signal for a backup recording, while still being a small package – at only 2U-high it enabled our onstage footprint to be incredibly small, which is critical for staying out of the way of the live sound production on a festival with many acts using each stage.
'In addition to the Andiamo.MC being the only product that met our requirements, I was also delighted to discover how easy is it was to set up – especially as this was my first time using a Madi system,' he adds. 'All the engineer laptops were very easy to set up with the control software – my own laptop, being steam-driven, took a little longer, but once everything was in place it was quite simple to operate. The Madi signal was just there, and the devices all saw the incoming Madi signal and clocked to it automatically. It was all wonderfully painless and the quality of the preamps is excellent. In fact, I was so impressed by the whole thing that I decided to purchase the same set-up for my own productions.'