The first sale of Soundcraft's Vi3000 digital mixing console in Denmark has been to concert touring and festival specialist, Lydvæsenet. Run by Henrik Kjærgaard, the sale is the first of three Vi3000 confirmed by Lars Christensen, Sales Manager at LydRommet, Harman Professional's territory distributor.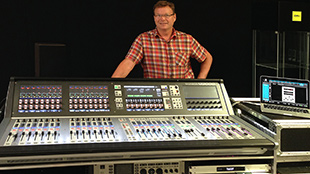 'We began promoting the Vi3000 as soon as the first pictures were up in cyberspace and immediately received a number of enquiries,' Christensen says. 'Henrik was one of the first people we approached.'
Both Christenesen and Kjærgaard – an experienced sound engineer in his own right – find much to commend Soundcraft's new console, highlighting the Dante/Madi interfaces for recording/plug-ins; the built in local rack; high-quality local mic preamps; the additional screen and control, and in particular 'the fantastic audio quality'.
'Most of our customers can't believe what they are getting for the money,' Christensen reports. 'The Vi3000 is certainly introducing the Vi quality to a broader range of productions.'
Lydvæsenet is no stranger to the Soundcraft platform, and already has a number of Si Expressions, Si Performers and a Vi1 in its inventory. 'All were chosen because of the audio quality, facilities and ease of use,' Kjærgaard says.
'The main reason was the I/O capacity of the Vi3000, which we needed to take on certain tour productions,' he says of the latest purchase. 'But all the other cool features like onboard Madi/Dante, UA plug-ins, upgraded DSP and graphics certainly helped to make the decision.'
The first tour of duty for the Vi3000 was with Lis Sorensen, an evergreen Danish pop artist at the Jelling Musik festival.
'We are proud to count Henrik as one of the most enthusiastic users of Soundcraft's entire range of digital consoles,' Christensen says. 'He needed the enhanced capacity that the Vi3000 could offer – and the RealTime Rack and access to UA plug-ins certainly didn't hinder the decision.
'Unofficially, the Vi's are the preferred digital consoles for a festival stage – and this will be enhanced with the Vi3000 with all its facilities, integration with the UA RealTime rack and the overall price point.'
He also notes that trends in live mixing are changing, and audio quality and ease-of-use are again taking priority: 'We believe people are reverting from mixing on screens to mixing on their ears, so consoles with the most direct access and control will gain market share, and those based on menus will decline,' he says.
More:
www.soundcraft.com