The Killers return to the road in support of their Direct Hits compilation album release, taking in North American and UK music festivals. All dates will see FOH engineer, Kenny Kaiser at the helm of the new SSL Live console.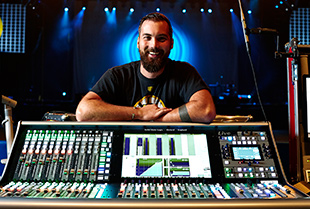 Kaiser works for US-based Delicate Productions, serving as PA tech or system tech for Selena Gomez, Train and as monitor tech and crew chief for The Foo Fighters, among others. After joining the Killers' camp in 2013, he found their previous FOH console not to his liking.
Part of a new breed of engineers, Kaiser found the old desk an uncomfortable fit: 'There was too much button pushing to get to certain places and it was too spread out,' he explains. 'There were fader banks on either side, so I had to do a lot of left and right movements.
'Delicate is a great partner of Hi-Tech Audio [supplier of the SSL Live console for the tour] in San Francisco, where I'm based,' he continues. 'Louis Adamo, president of Hi-Tech, called to say they had a new SSL console, so I went down and played with it. I found it fluid and the surface very intuitive. I also had a chance to take a class for engineers and production companies. After I took the class, I found the console even more intriguing. One thing that stuck in my mind was actually taking it apart and looking inside at how it's made – it's built like a tank.
'With Live, operation is more centralised – I don't have to move around the console and I can stay in one spot, hit one button and quickly do what I need to do. It's very intuitive and user-friendly. There are a lot of options as to how you can set up SSL Live.'
The accuracy of the console also caught his ear: 'Because my background is a system tech, I'm an audio measurement and phase dork,' he says. 'Some engineers might have an 8dB or 10dB boost or cut on an EQ band and my thought, if you have to do that, is that something is wrong – either the wrong mic or the console isn't doing what the engineer needs. I now find that certain things I used to do, I don't have to do anymore because the EQ does what it says its doing. When you're on the first band and you want a cut at 120Hz, it actually does 120. Some consoles say they're doing 120, but then when you actually plug it in and check, it's not quite there. Sometimes the Q isn't quite what it says; with this console, it's precise.'
Another hit was Live's onboard effects: 'Everything is built-in, the reverbs sound glorious and it's all on board,' Kaiser says. 'I don't have to go out and buy a console and then say, 'Okay, now I need some external piece of software or hardware to get what I want.' Everything I need is right there in one box to make the sound how I need to make it, which makes my job easier.
'As a system tech, I use all-pass filters to align side hangs to the mains,' he adds. 'Being able to have that on inputs to align a pair of kick or snare drum mics is a huge tool to get the phase just right.'
The Killers recently headlined the Hangout Festival on the sandy beaches of Gulf Shores, Alabama where the console was put to the true test of the weather. Kaiser notes, 'despite the heat, high humidity, wind and sandstorms that we encountered that weekend, the console was just great'.
More: www.solidstatelogic.com