Recent performances by the Rolling Stones and Justin Timberlake in Tel Aviv's giant Park HaYarkon gave Sincopa Sound & Light a high-profile stage to prover the worth of its new Optocore digital returns racks.
The largest PA company in Israel, Sincopa served Timberlake's 50,000-strong crowd with L-Acoustics PA and delays and its Optocore fibre distribution system, comprising four XR6-FX interfaces at FOH, stage and delay tower ends. One device was configured 8AE/8MI and the other three 8AE/8LO.
Transmission to the L-Acoustics K1/K2/V-Dosc/Kara PA and delay towers was via Optocore AES, analogue and Ethernet on a redundant loop, with two AES lines from the Digico SD-7, through a routing/summing Lake LM-44 to a total of five AES lines on the Optocore rack. These were configured for AES and analogue, with an analogue line for backup.
The two Optocore stage racks were run AES out/analogue out and AES in/analogue in respectively, while the other AES/analogue outputs were assigned to the two delay towers. The total coverage distance was 210m, with 152m to the furthest delay point, with the L-Acoustics served by dedicated L-Acoustics LA8 amplified controllers, which populated 21 LARacks.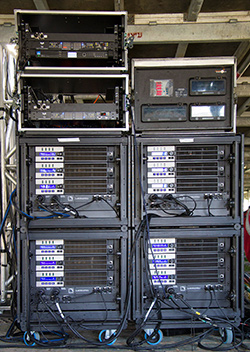 'Optocore supplied extremely close technical support and dealt immediately with any issues we encountered,' said Sincopa Technical Manager Assa Efrat, who configured the system. 'I can now see this being part of our permanent audio deployment and it will be used again and again.'
'The support from Optocore was amazing,' agrees Sincopa Sound & Light CEO, Amos Bokobza. 'We were able to choose such a huge project on which to debut the Optocore system only because of the great technical support; this enabled us to remain calm during set-up and show days!'
Other technical crew for the Timberlake show included Eran Pereldik (project manager), and system engineers, Eran Pereldik and Efrat himself. The Optocore solution more than met their requirements and was promptly redeployed when the Rolling Stones appeared at the same venue.