Entitled Footkhana, he is the star of a film that combines gymkhana driving with football – machine vs man and his feet – made by video production specialist La Fabrica de Carbo with US rally driver Ken Block at the wheel.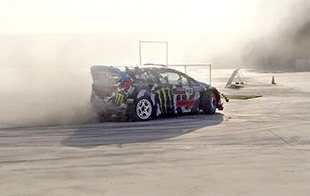 'Never in a million years did I think I'd ever be trying to score goals with my Ford Fiesta, but it actually was a ton of fun for both of us,' Block reports. 'I'm pretty sure that Neymar's never had to try and score a goal with a rally car defending the net before…'
A collaboration between Block, Neymar and Castrol, Footkhana is designed to be an exploration of how Block's Gymkhana driving could be used for something other than his normal Gymkhana Grid competitions and Gymkhana video series.
'I'm stoked that Castrol was able to help us bring the whole thing together and present me with the new challenges of hitting soccer balls with precision slides while I navigated the Footkhana playing field that they created for us,' Block says.
Recording the audio for the project were Quique Lopez and Pau Tolosa, who used a Lectrosonics wireless systems to good effect: 'Lectrosonics is the system we've been using for a long time now in complex recordings, for its great coverage and the fantastic sound,' Quique says. 'The reasons we like it are many and varied, but if we had to underline something, it would be the app for programming the SM Series transmitters, such a great option for this kind of work.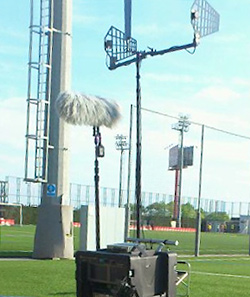 Footkhana certainly qualified as 'complex': 'Ken's car generated 117dB SPL when we tried to record wild tracks and ambients from the outside, and on the inside it was even worse,' Quique reports. 'We had to work with huge amounts of attenuation. Yet, we were very happy to count on DPA 21 Microdot-Lectrosonics adapters in our configuration. Another problem was the size of the set and the fact that were we were actually recording a running car. We solved the problem by using Lectrosonics ALP620 shark fin antennas.'
Quique and Pau explain the set-up: 'All the drifting ambients and FX were recorded on Sound Devices 788 (mounted on cl9 cart). We tried to get as much stereo separation as possible. We used a Lectrosonics Venue receiver system with four VRS and ine VRT, with the ALP620 directional antennas so we could have a good coverage over the whole set. Everything was mounted on the sound cart.
'SMDB series transmitters were paired with DPA 4061s and 4071s and Countryman EMW lavaliere microphones. We also used an HM plug-on transmitter with a Shoeps Cmit shotgun mic for specific FX. We used wireless transmitters as well for ambients and stereos, as they made for easier location set up. We even used them for some specific Fx, such as football strikes and so on.'
Inside the car were a Sound Devices 664 location recorder, a Lectrosonics Quadpack containing two SR dual-channel receivers, four SM series transmitters with DPA 4063 mics ,and one non-wireless stereo mic.
'Our Lectrosonics equipment has rescued our work in many situations,' Quique says, 'sometimes under very extreme recording conditions. It's what we call a safe bet…'
La Fabrica de Carbon (Coal Factory) provides a range of services from sound recording and filming to postproduction. Its studio is located in the quiet neighbourhood of Sants in Barcelona, where the team use the latest technology to produce the best possible results.