The soundtrack to West Side Story has been recorded by the San Francisco Symphony for release on SACD and digital download on the SFS Media label.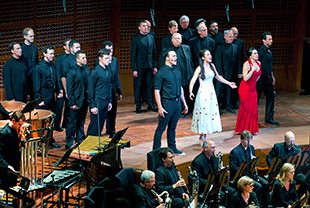 With more than 200 commercial classical releases for prominent labels to his name, San Francisco-based Jack Vad serves as producer/engineer for the San Francisco Symphony. For the West Side Story project, he worked with audio engineer Denise Woodward, whose resume includes being Head Audio Engineer at San Francisco's Shorenstein-Hays Nederlander's Curran Theater and who also provided engineering support for the San Francisco Symphony's 2012 Grammy Award-winning production of John Adams' Harmonielehre – Short Ride in a Fast Machine.

They used Lectrosonics systems for this project – it is believed to be the first time this work has been captured in this fashion. Key equipment used for the recording included18 SMV, 2 SMQV, and 16 UM400a transmitters along with six Venue receiver mainframes stocked with Lectrosonics' VRT receiver modules.
West Side Story was recorded at Louise M Davies Symphony Hall, home of the San Francisco Symphony. 'Since we had to capture everything from the live, semi-staged performance, the main challenge was trying to get a studio-type sound from the moving, acting vocalists. Vad explains. 'Although there are many fine wireless systems that are adequate for live sound use, most are not acceptable for high-resolution audio reproduction. The Lectrosonics equipment provided us an audio chain that was both high quality and suitable for SACD release.'
Because of the venue's location in downtown San Francisco, there was concern about RF interference – though it proved not to be an issue, as Woodward explains: 'Our recording/live performance was scheduled during San Francisco's Gay Pride celebration, a huge event with, according to some estimates, over a million attendees and extensive media coverage. The main stage for this event was at San Francisco's City Hall – right across the street from Davies Symphony Hall. We constantly monitored the challenging and ever-changing RF environment, and were pleased with the RF agility of the Lectrosonics equipment. We got solid, drop-out free performance.'
'We used DPA 4088 cardioid electret condenser mics with the Lectrosonics equipment and, together, they made a great choice for capturing the vocal performers,' Vad adds. 'With Lectrosonics' Digital Hybrid Wireless design, we were able to achieve a greater, cleaner vocal dynamic range than traditional wireless options. The audio quality of the Lectrosonics system competes well with traditional studio-type microphones that are typically used for this type of recording.'
The Lectrosonics equipment used for the project was arranged through Bexel, a leading provider of audio and video equipment for the broadcast market. 'Bexel provided superior technical support for our project,' Woodward says. 'In preproduction, our requirements changed constantly as the project developed and the changes continued right up to shipping date. Rod Allen of Bexel pulled together a package for us and provided for everything that was required. On site, we were assisted by the extremely talented Ted Marvin of Bexel, who helped facilitate the setup and handled frequency coordination for us.
As the West Side Story recording nears release, Vad and Woodward reflect on the project:
'I find that most listeners are amazed that the vocals were recorded with wireless systems. Everybody at the San Francisco Symphony is extremely happy with the results.' Vad says, 'The sound quality of the Lectrosonics transmitter/receiver systems was absolutely pristine,' Woodward adds.
More: www.lectrosonics.com
More: www.dpamicrophones.com