The Starlight Theatre has been central to Kansas City's performing arts community since opening in 1950. Hosting a full seaon of Broadway plays and musicals each summer – alongside concerts, corporate events, weddings and fundraisers – the 8,000-seat venue counts Jesus Christ Superstar, Oliver!, Hair, Camelot, Sweet Charity and West Side Story among its past productions.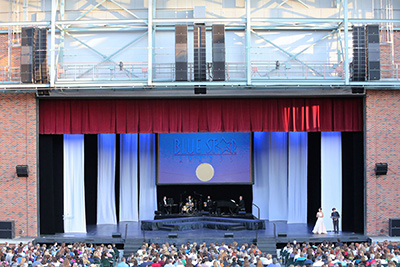 Operated by the not-for-profit Starlight Theatre Association, the theatre has seen a sucession of sound systems – the last of which survived 14 seasons – but none have provided the combination of the intelligibility needed for theatrical dialogue with the full-range response necessary for music. But now, an L-Acoustics Kara Modular WST line source system promises to meet both demands.
The new house system was designed by Dallas-based Idibri (formerly Acoustic Dimensions) and installed by Clair Brothers Audio Systems' Nashville office./ It comprises 48 Kara line array modules set into as hangs of 16, suspended left, centre and right from a steel framework above the proscenium. Flanking the centre hang and outside of the left and right arrays are flown arrays of six SB18 subwoofers, accompanied by eight ground-stacked SB28 subwoofers split between the left and right sides of the stage floor. Proscenium fill is provided by two ARCS Wide and two ARCS Focus boxes, one each per side, while six 5XT loudspeakers and three 8XT enclosures handle front fill. Sixteen LA8 amplified controllers drive and manage the system.
'We put a lot of effort into choosing the new sound system,' says Starlight Theatre Director of Operations and Theater Plant, Justin White. The selection process began with five systems that Idibri Project Manager Ryan Knox suggested Starlight investigate. This field was eventually narrowed down to three, for which Idibri arranged a demo that enabled Starlight staffers, board members, donors and city officials in the venue itself.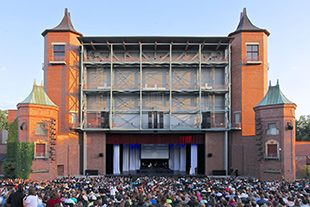 They emphasised the criteria of intelligibility and music reproduction, as well as other areas of importance, such as the ability of the system components to endure outdoor use throughout what Barb Schulte, Starlight's Director of Communications and Outreach, euphemised as Kansas City's 'challenging weather, especially in the summer'.
And, says White, the winner quickly became clear: 'After as little as ten minutes for some individuals in attendance, it was unanimous: everyone loved the way the L-Acoustics system sounded.'
Kent Andel, Production Manager for the theatre, says he was a fan of the previous system because of the warmth of its sound, but reckons that the new system exceeds its performance: 'The intelligibility we need for diction and dialog are all there,' he says. 'At the same time, it works for music. So the L-Acoustics system won hands down.' This is especially impressive when considering that the compact modular Kara system went head-to-head with systems looking much bigger on paper.
The new system was first used for Starlight's Blue Star Awards, a Tony Awards-style program to recognise metro area high school musical theatre talent. It will get a more vigorous workout for the season's first Broadway musical, when The Wizard of Oz comes to Starlight in mid-June.
Between these shows, the system is showing its versatility – it's already been divided into three mini arrays, each with two SB18s, six Kara modules and all four ARCS enclosures for the Jeannette and Jerome Cohen Community Stage that's part of the Starlight Theatre complex for off-season private events, receptions and parties. 'In addition to sounding great, it's also a very flexible system,' White says. 'It's as loud as we needed it to be, super clear, flexible and just a great choice for us.'