Leading Belgin postproduction facility Temple of Tune specialises in television, film, corporate promos and radio commercials from its base in Kuurne. Having established the studio in 1990, owner Fredo Gevaert is constantly looking to improve its service, and has recently added a Yamaha Nuage control surface.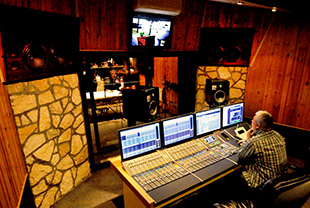 The complex's four studios are connected by a network of hard disks, enabling multiple rooms to work concurrently on the same project – files can readily be moved, sound effects quickly accessed and so on. Working on major projects in Dutch, French and English, a regular part of its work is in ADR.
Steinberg's Nuendo has served all of the rooms well for many years, but Nuage has solved one of its more challenging aspects: 'Nuendo has so many applications and so many advantages compared to other DAWs,' Gevaert says. 'It is more flexible, faster, more user friendly and easier to work with multiple users. However, there are so many possible key commands that it can be difficult to remember them all. So when Nuage arrived as a fabulous small surface that gives easy access to the huge amount of parameters in Nuendo 6, it brought all of the functionality immediately to our fingertips.'
Having successfully incorporated a Nuage system into its main studio, a second system is being planned for the facility's surround studio.
'It's been like switching from flying an aircraft with a mouse and keyboard to flying it from within a real cockpit,' Gevaert observes. 'It's amazing how deeply Nuage and Nuendo are integrated. Many very complex applications have now become manageable, it's similar to mixing on a real console – but easier, faster and more flexible.
'There is simply nothing else available on the market that can do as much as Nuage with Nuendo 6.'