'We've been using another system for about 11 years and wanted to take it up several notches to offer a solution that could stay on the cutting-edge of technology for years to come,' says Alford Media's Manager of Audio Services, John Caswell.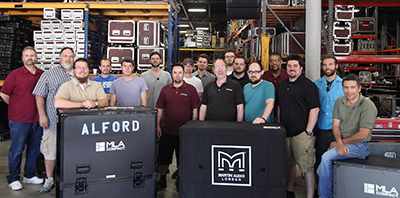 The loudspeaker system in question is Martin Audio's MLA, which makes the Dallas-Fort Worth-based company the latest US company the latest recruit to the MLA stable.
'We demoed many of the top lines before talking to some of our freelancers who'd used the MLA System and had a lot of good things to say about it. [Company co-founder] Tom Alford spoke with Mario Educate, CEO and founder of On Stage Audio, who strongly recommended that we listen to the system before making a final decision.
'That got us listening to MLA – discussing the product and the technology in terms of a loudspeaker system that's still going to be ahead of the curve many years from now,' Caswell reports, 'When we looked where Martin Audio was headed with MLA, we felt it would be the longest-term solution and stay well ahead of other companies technologically. This explains why we made the decision.
Caswell recalls a demo of MLA at a Walmart show at the Orlando Convention Center: 'This is one of the biggest and most acoustically challenging convention centres in the country, which truly helped demonstrate MLA in its element. We were extremely impressed with the results on that show, and so was our client. The system covered the areas it was supposed to cover with a balance across the spectrum. The ability to control sound and quickly achieve optimisation was what sold us on MLA.'
Alford initially opted for a system comprised of 32 MLA Compact, 32 MLA Mini, 18 DSX and eight MSX subs. Taking delivery early, the audio team quickly had half of the system hanging in the MGM Grand for a corporate focus group event and the other half on a truck headed to San Antonio for a Pizza Hut show.
'Initial feedback from our audio team was that the system was covering exceptionally well and had more horsepower than we needed for these events,' Caswell says. 'Overall, when you factor in the system's cutting-edge technology, product cycle longevity, superior performance and exceptional audio quality, the reasons for choosing Martin Audio MLA just go on and on.'
More: www.martin-audio.com