ACETA (the Australian Commercial & Entertainment Technologies Association) has produced a logo to certify the organisation's integrity. Its use is intended to enable members to differentiate themselves from companies that do not commit to compliance with Australian laws and regulations.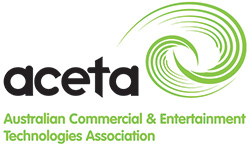 'There are numerous individuals and organisations that compromise our industry and we need to be able to provide legitimate companies who seek to do all the right things with some way of demonstrating their integrity,' says ACETA President Frank Hinton. 'Using the ACETA logo is a solution.'
Equipment purchasers are encouraged to look for the ACETA logo on tenders, quotes and sales and marketing materials, in order to confirm that a company is committed to compliance.
ACETA is also to extend associate membership to any incorporated company, trust, partnership or joint venture in Australia which re-sells; services or maintains; rents or hires; provides system design, integration, installation; provides training (including schools, colleges and universities); and that are media and/or trade/industry event owners for the industry.
'This means that installers and re-sellers, for example, can also benefit from the ACETA mark of integrity,' Hinton explains. 'Reports received indicate disturbing numbers of installations that are non-compliant with established safety standards and are therefore dangerous, but many buyers wouldn't know until something went very badly wrong. Buyers can look for the ACETA logo and know the seller commits to compliance.'
The mark of integrity can also be referred to by manufacturers looking for an Australian partner for distribution.
More: www.aceta.org.au