Independent Arab production house Charisma established a new production base at twofour54, where it aims to create 'dynamic new programming, using state-of-the-art production, postproduction and broadcast facilities available at twofour54 intaj'.
10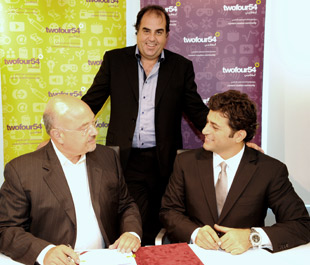 The company's goal for the first three years of operation, is to create 4,000 hours of quality scripted and non-scripted programming, entertainment shows and documentaries. The operation will create new job opportunities (estimated at more than 70 for the first year) based on the recruitment and training of local talent. It is also planning to approach regional drama with international production standards, in order to serve the increasingly demanding audience in the GCC and broader MENA markets.
'The GCC market has always been of great importance to us, and our focus on insightful content makes it only logical for us to expand our operations within the Gulf,' says Ayman Al Zyoud CEO and founder of Charisma. 'It's this shared vision of cultural relevance and original content, along with their infrastructure and production facilities that made us choose twofour54 among the many options that were available.'
'Charisma's commitment to Abu Dhabi is a vindication of our vision to create a sustainable content creation community,' adds twofour54 COO, Wayne Borg. 'I'm delighted that Charisma will be a totally integrated partner in our community which is developing local and regional Arab talent through training and investment and providing production facilities second to none in the region.'
The GCC headquarters will also offer media management services to TV channels, from market analysis to exploitation of content.
By the end of 2010, twofour54 is expected to be home to more than 100 regional and international partners developing content at its Khalifa Park campus.
'We launched twofour54 intaj's production, postproduction and broadcast facilities at the end of 2009 and have since booked more than 500 production days to produce close to 1,000 hours of TV programming,' says twofour54 CEO, Tony Orsten. 'Attracting major Arab production companies like Charisma will add not only to the amount of Arabic programming produced at twofour54, but also contribute to our expanding and evolving media ecosystem through increased job and career development opportunities for Arabs working or entering the media industry.'
More: www.twofour54.com