Supplying sound, lighting and stage design to many of Belgium's best-known artists, Antwerp-based Revolution Event has added a pair of Yamaha CL5 digital mixing consoles to its equipment inventory.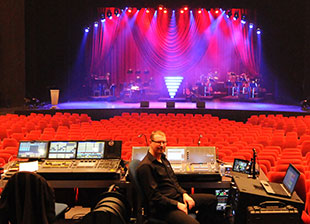 The company was founded by Bart Faut 20 years ago, and now operates with around 20 freelance staff to supply systems for both national and international shows. As a long-time user of Yamaha gear, its inventory includes M7CL, O1V96, PM3500 consoles and Nexo loudspeaker systems. But with touring productions becoming increasingly sophisticated, more inputs and outputs were needed. Revolution purchased the two CL5 consoles, along with two Rio3224-D I/O units, through Amptec.
'It was a logical step to invest in the CL5,' says Bart. 'It is ideal for both front of house and monitor sound, the R-series I/O units have excellent preamps and the system delivers a fantastic natural sound. Of course, sound and colouration is always a personal taste and this can be easily optimised with the beautiful audio processing that comes as standard with the CL series.'
One of the first events the new CL consoles were used for was held at the Kursaal Oostende. Featuring the Lou Roman Band, Johnny Logan and Belle Perez, all shows were sold out.
'The CL system was ideal for this production,' Bart reports. 'The Lou Roman Band has large mixing and monitoring requirements, while the onboard audio processing meant that we were able to mix the very different styles of all the artists to a uniformly high standard.'