As a producer and distributor of non-commercial news, talk, and entertainment programming, US-based NPR generates multimedia content that reaches 26m listeners weekly and tens of millions more online and on mobile. A recent move to improve its operating efficiency, the company relocated its headquarters to a restored building in Washington's NoMa neighbourhood, and upgraded its equipment – taking much of it from Lawo.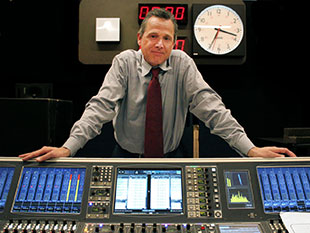 The list of Lawo equipment is extensive and includes three sapphire radio consoles, ten 8-channel crystal consoles, ten 4-channel crystal consoles, a large-format mc²66 MkII production console, two redundant Nova73 HD routers, 70 Nova17 routers and another seven Nova29 routers.
As project manager and lead coordinator for all operational aspects of the broadcast facility at NPR's new home, Senior Director of Engineering Shawn Fox played a key role in the selection and implementation of the equipment.
'NPR needed to upgrade its broadcast and content production facilities in order to properly fulfil the transition from analogue to digital technology,' he explains. 'Our previous building was almost 20 years old and based on analogue technology. Most of the equipment was still in service, but was outdated and constantly needed repair. NPR's content production had also evolved to incorporate platforms beyond traditional broadcasting. The new 1111 North Capitol Building Project was more than just a facility wide system upgrade – newer technologies were required in order to be more flexible, and to meet the ever-changing needs of a 24/7 news operation.'
Lawo and NPR had previously worked together on smaller technology projects: 'The relationship started with facility upgrades at our 635 Headquarters in the summer of 2009,' Fox says. 'These were small-scale projects in preparation for the 1111 New Building project. The 1111 project and its relationship with Lawo started in earnest late in summer 2011. It went operational in April and the entire project was completed in July 2013.'
Fox offers insight into to the equipment selection: 'The products all run seamlessly on NPR's redundant corporate network, which is protected by multiple firewalls and runs on separated VLANS.'
Another important consideration for any broadcast operation is the quality of customer and technical support services provided by the equipment vendors. 'Lawo has met project deadlines and incorporated multiple changes throughout out the project,' says Fox. 'Their ability to conceptually grasp what we were looking to implement, propose solutions, and come up with the right equipment to make these visions a functional reality requires an in-depth understanding of the market and the technologies required to make everything come together as a cohesive whole.
'The timeline on this project was extremely tight. In some cases, systems came online only weeks before the first broadcast,' he adds. 'Lawo representatives were constantly onsite and they met the requirements of the Engineering Client base expediently and with minimal negative impact to our stations and listeners.'