The London headquarters of news and multimedia content company ITN has made news of its own with the installation of a Calrec Audio Artemis Light digital mixing console in its Channel 4 News production gallery.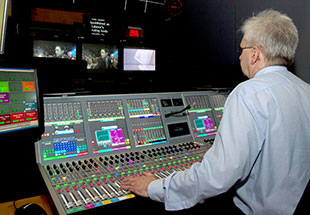 Now the primary console on the Channel 4 News, ITN's flagship news and current affairs programme, the desk is the solution to the company's search for DSP and scalable I/O.
'Getting more DSP power was critical for us,' explains ITN Technical Projects Manager, Andrew Colgan. 'Before we got the Artemis Light, our lack of it prevented us from making full use of outside sources.
'The Artemis Light has a huge number of standard processing paths when compared to the competition. Having so much DSP power allows us to load all of our sources and destinations into memory and recall them almost instantaneously, making day-to-day programs a breeze. At the same time, we can easily accommodate complicated changes.'
ITN installed a 40-fader console featuring Calrec's Bluefin2 high-performance signal-processing engine with 240 channel processing paths. Calrec's Hydra2 audio routing system is equipped with 24 mic/line inputs, 48 line inputs, 48 line outputs, 64 AES inputs, 64 AES outputs, 48 optical inputs and 48 relays.
One feature that has proved especially important to ITN is the desk's Automixer, eight of which are available internally. Automixer assists ITN with mixing more than one source of speech, which has been a critical tool during multiple-guest interviews in an acoustically challenging studio. 'Before we had the Automixer feature, mixing the studio required super dexterity to equalise the sound if a guest jumped in with a comment,' Colgan says. 'We simply couldn't react as quickly as we can with Automixer assisting us.'
The console not only met ITN's requirement for more DSP, it also satisfied other criteria, including reliability, speed of loading projects, clear displays, good ergonomics with a solid tactile control surface, transparent audio quality, and intuitive operation to reduce the learning curve for freelance operators.
'ITN's Channel 4 News is a highly respected programme that reaches millions of people every day and is a critical source of news for the British public,' says Calrec UK Sales Manager, Jim Green. 'The Artemis Light console will help to keep ITN's production facility at the forefront of the news business for years to come and accommodate almost any imaginable news scenario.'
More: www.calrec.com