Already using Optocore equipment for events requiring custom audio distribution, Australian premier rental staging company, Novatech Creative Event Technology, has moved from analogue to digital signal transmission with the purchase of a number of of X6R-FX converters, equipped with AES I/O.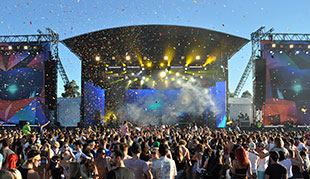 The company had first adopted Optocore systems in 2012: 'At the time, we were looking for a solution that would transport multiple channels of audio as sends and returns,' says Project Manager (Audio), James Sacca. 'Due to the nature of a particular event, we also needed something that could be quickly cabled after a series of road closures. The multimode fibre made this an easy task. We were more than happy with the reliability and performance that Optocore products offered and our system design engineers have continued to use Optocore products ever since.
'We had been researching options on how best to use the AES inputs on our L-Acoustics rig by doing something that other companies weren't,' he continues. 'We pride ourselves on being able to offer the highest quality solution and running a standard AES cable from FOH to feed our LA8's didn't feel like the best way to do it,' Sacca says. 'We also wanted to couple the move to AES with our recent purchase of an L-Acoustics K2 System to offer our clients the absolute best in audio quality.'
After extensive research and demos, Optocore was chosen for its stability and flexibility: 'After discussions with the Optocore team, we were impressed with what the X6R-FX product offered.'
The choice was endorsed by another major Australian Optocore customer, Norwest: 'We initially approached them for a loan of their X6R-FX units so we could carry out some testing, and they were more than happy to assist,' Sacca says. 'We were already aware of the capabilities and flexibility of the units, and so our focus with the loan system was seeing how it would act as an AES returns core and ensure that it catered for an adequate set of redundancy options.'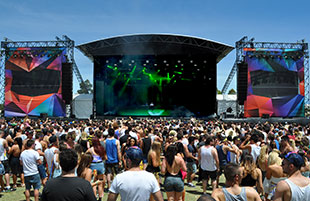 And as a result, he placed the order. The new set-up is configured with 16 AES inputs housed in FOH drive racks. Fibre is run to stage left and right, where another X6R-FX at each point is configured with 16 AES outputs.
Sacca adds that some customisation boosted the system further: 'We were happy with all the functionality except for when the fibre connection was lost. The LA8s would not revert to analogue fallback mode because they were still receiving an AES stream from the Optocore system – this resulted in the audio being completely cut.
'With the help of L-Acoustics, the Optocore team was able to design a custom firmware version which rectified the issue. This means that we can run analogue and AES simultaneously with the system automatically switching over if the fibre connection is lost.
In addition, Optocore provided in-depth technical training to all of the company's senior audio technicians, which was well received.
Summing up, Sacca says: 'The implementation process of this system was a lengthy one – but the support we received from Optocore in delivering our custom firmware design was a critical – not only in the decision to purchase the system but also in the integration of the Optocore solution across our existing infrastructure and extensive product range.
'Since commissioning our new system design in late 2013 it has been a game changer when it comes to handling long distance audio and DMX cable runs. There hasn't been a touring engineer who hasn't complimented us on the quality of the audio in our concert systems, post the switch to AES.'
The new system made its debut at the Stereosonic Music Festival and has since been used on numerous concerts, festivals and events.
More:
www.optocore.com

More:
www.l-acoustics.com