Working on live concerts, press conferences and corporate, freelance sound mixer Lukas Zilka has equipped his company Live Productions – Event Services with a Soundcraft Si Expression 3 mixing console. The desk will serve both his own productions, and also the services he offers to larger companies.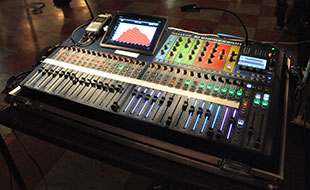 Having worked on some of Austria's top events, including the Bonobonball (Candy Ball) in Vienna, it was previous experience the Soundcraft GB8's analogue console installed at that venue that led him to the Si Expression 3.
'The value of the Si Expression 3 is unmatched, as other brands cost an arm and a leg for the same feature set that Soundcraft offers,' he says. 'I mix children's plays for one of my regular clients, which is a local community church, and as the performance group expanded over the years and became increasingly professional, the small racks on the old Yamaha console couldn't cut it anymore. I needed more outputs and more faders; when I saw the Si Expression 3, I knew my search had come to an end.'
The Si Expression 3 features 30+2 faders along with flexible onboard and expansion I/O. It uses the EMMA DSP processor and has built-in FX engines, as well as fader group are illumination from Soundcraft FaderGlow, which colour codes the motorised faders.
'I really like the easy handle on all channel parameters, as there is no need to jump into menus to get the effects I want,' Zilka says. When I did a charity concert, I noticed the advantage of storable preamps, which was not present on my old mixer. I also enjoy using the ViSi app on my iPad for corporate events and press conferences.'
'The Si Expression does a perfect job and helps me create the exact sound that I want. Its ease-of-use features such as FaderGlow are revolutionary for this industry, which contains too many cluttered mechanics from other brands.'
More:
www.soundcraft.com