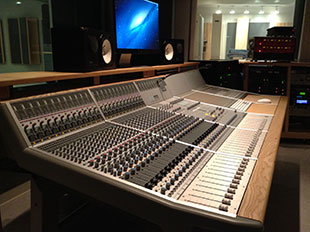 The Recording Arts & Technology programme at Ohio's Cuyahoga Community College has added an Audient ASP8024 to its teaching facilities.
Describing the British-made console as 'a welcome addition to the programme's current list of analogue desks,' instructor and staff technician Kevin Baylon says: 'We have never had a true in-line console to demonstrate how signal flow can be routed and re-routed through its architecture. I hope that students will appreciate and understand the ASP8024's abilities in that regard.'
Ohio's oldest and largest public community college, Cuyahoga Community College (Tri-C) has made the new mixing desk the centre of a control room operating Pro Tools HDX, a 2-inch 24-track multitrack machine and a wide variety of outboard gear. The room serves three recording spaces – one of several throughout the building's digital network infrastructure, giving students a wide range of options for creativity and learning.
Offering training in music recording and mixing, location sound, commercial production, audio for video and television, internet audio, record production and live sound reinforcement, the programme includes a field experience or internship at local and national facilities.
Opened in 1963 as Ohio's first community college, Tri-C has grown to include the Recording Arts & Technology program, which began operation in 2001 to train students for entry-level positions within the audio industry. The programme moved to its facilities at the Tommy LiPuma Center for Creative Arts in 2009, where the acoustic spaces are designed by the Walters-Storyk Design Group.
More: www.audient.com