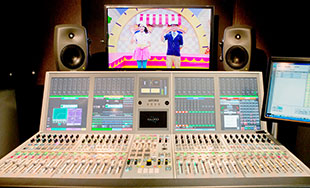 Good TV Broadcasting has installed two 32-fader Calrec Audio Artemis Light digital mixing consoles in its new broadcast facility in New Taipei City – marking Calrec's first installation in Taiwan.
The world's first Mandarin-language Christian television station,' Good TV is using the desks for production of its full schedule of in-house programming. The Artemis Light consoles are part of a turnkey audio/video solution installed by Hi-Pro Technology, Calrec's Taiwan distributor.
'After evaluating many audio consoles, we knew Artemis Light would provide the best option for our new studios and equipment upgrade to HDTV,' says Good TV Sound Specialist, Alan Hsiao. 'It gives us tremendous efficiency when managing HD/3D 5.1 surround sound recording, with the scalability we need to grow our operation into the future. The equaliser modules enable very sensitive and extremely accurate adjustments, and Artemis offers plenty of audio headroom to diminish overdrives. Overall, Artemis Light has provided the carefree operation and reliability we need in a fast-paced production environment.'
Good TV operates two channels, producing gospel music shows, celebrity interviews, and live church services in Taiwan, as well as presentations from internationally known ministers. Supporting Good TV's migration to HDTV and the 2012 completion of Taiwan's move to digital broadcast, the new production facility comprises the larger Studio A, used primarily for music programmes, and Studio B for interviews and talk shows.
In each studio, the Artemis Light consoles receive the main audio signal and transmit it to a secondary video control room, where it is integrated with the video and passed to a video server in the main control room for broadcast and archiving. Both consoles are equipped with RTW's TM7 TouchMonitor surround-sound analyser and loudness monitor, which enables engineers to make adjustments at the time of production rather than further down the transmission path or in postproduction.
Driven by Calrec's Bluefin2 signal-processing engine, the Artemis Light consoles also feature Calrec's Automixer, an automatic mixing function that attenuates all output to maintain consistent programme levels.
'Good TV is a pioneer in Taiwan's emerging Christian broadcasting landscape, so it was an honour to be included in this project as part of our first sale into that country,' says Calrec APAC Regional Sales Director, Graham Murray. 'Hi-Pro Technology did an excellent job of evaluating Good TV's requirements and providing a total solution that would meet its needs. Our Artemis Light consoles, for instance, are very well-suited to Good TV's environment because of their compact footprint and their world-renowned stability and reliability – critical for a broadcast platform that is supporting at least one operating studio every day.'
More: www.calrec.com