Readying to mark its 20th appearance in March, South Africa's Oppikoppi festival will be staged a few miles outside Northam close by the border with Botswana. Now part of the South African music establishment, the sound will be supplied by Blue Array Productions, based two hours away in Pretoria.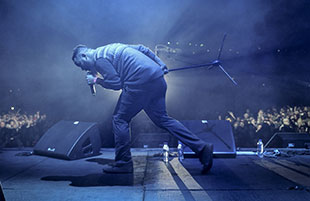 Company owner Kobus van Rensburg has looked after most of the audio needs of the event for half of its lifetime: 'Oppikoppi has been running for 20 years come the 2014 event, Blue Array Productions started ten years ago with the acoustic stage and we have grown to take the others,' he says. 'The stages are relatively close and although physically delineated by perimeters of beer and food tents that doesn't stop sound leakage, so properly designed and implemented rigs for each stage are essential. That's where the constant directivity of the d&b equipment has given us commercial advantage. In such an environment with multiple stages, we can maximise systems to all the listeners' advantage. That's what makes this work for us.
'We have been investing steadily in d&b since 2007 and now have a substantial inventory,' he adds.
Blue Array will provide PA for five of the six stages following an established formula – four being all d&b systems, including monitors.'
'The main stage uses J-Series, 14 J-Tops a side with flown J-Subs and a substantial B2-Sub array on the ground, van Rensburg says. 'The delays are all Q-Series. The second stage is V-Series, our latest investment, also with groundstacked B2-Subs, this time in CSA mode. Three is a Q rig, that's the system we first bought into and find it very good for medium size outdoor events and indoor corporate stuff. Here we used Q1 with Q7 fills and Q-Subs.

'The acoustic stage uses Q as well, just a stereo pair of flown Q10 at side of stage; this is a spacious performance area with presentations of ballet, acoustic musicians and comedy acts. Power is not the priority; its coverage.'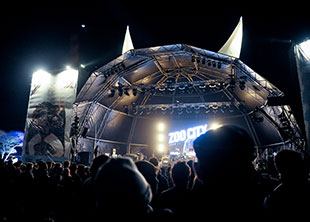 For Evert De Munnik, sound engineer for Mango Groove, 'a band of voices, brass and laughter', the festival will be a return to familiar territory: 'When I [last] walked onto the stage a few hours before our set, I got a big smile when I saw I was going to work on a d&b system,' he says. 'I listened to some other bands and was very impressed, especially the way the system was set up and the even frequency spread across the field. I normally look for a tightness in the system without sounding compressed. Basically a big open but tight sound.
'The system tech from Blue Array did a great job and it sounded really good listening to the other bands. I couldn't do a soundcheck with the system on, so I got a headphone balance during sound check. I was pretty happy with that and just hoped that the system would sound as good. When Mango Groove started to play I was absolutely blown away by how similar and bloody good the system sounded to what I heard on the headphones. Great definition between all the instruments and vocals. The bass frequencies were solid and punchy. High frequencies very transparent and not harsh at all; very smooth sounding. I hardly had to work on the instruments; a bit of EQ on the kick, snare and overheads; nothing on the toms and hi-hat; guitar no EQ; brass no EQ, just a bit of compression and high-pass filters; likewise for the backing vocals just HPF and compression; and finally a bit of EQ on the lead vocals with compression, mainly to get rid of proximity effect. Keys nothing; bass a bit of EQ to get the slapping out and some mild compression.'
'The big test for me is how the crowd respond to the band, and they were rocking all the time. If they are just standing there then something is wrong and it won't be the band. If they are rocking it is the band and the sound. I'm still hearing from some of my students who attended how good the sound was.'
'We have been well supported by Stage Audio Works, the d&b Distributor for South Africa as we have gone through this expansion,' says van Rensburg. 'That support is a big part of why we have been able to invest and grow our d&b inventory.'