Having traded life on the road for a well-equipped recording studio, engineer Jaron Luksa has installed a Solid State Logic AWS 948 Hybrid Console/Controller in his Rattle Room facility in Los Angeles.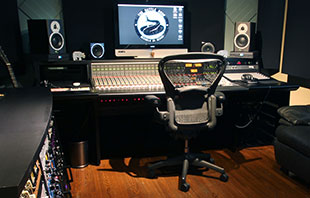 'When I first decided to hang up my travelling shoes, I began researching the equipment necessary to build a truly competitive recording studio and that process led me to the SSL AWS 948,' he says. 'I had good experiences with SSL consoles at Berklee School of Music, where I was taught to mix with my ears.
'In the age of recording to a laptop computer, people are now getting used to mixing with their eyes first. The AWS 948, with its excellent DAW controller, returns me to the turning-a-knob-and-listening-to-the-change days. With the AWS, I can start using my ear-to-think coordination to get the sound I need. This type of concentration is impossible to achieve with a mouse-based system.'
The AWS 948 gives The Rattle Room's up-and-coming clients the opportunity to work in a space that delivers the sound quality of a high-budget, major label project. It also allows the studio to bridge the workflow gap between computer-based and live recordings to encourage musicians to use this creative, live space.
Luksa also recognises that the artists he is working with are beginning to get away from tracks comprised of sampled sounds worked in a DAW. While DAW tracks make good music, he believes that the same music played live by musicians in a studio delivers a musical interaction that cannot be accomplished by sequencing.
'With the AWS, you get SSL's extremely clean sound quality, which gives me high-end heaven, tight bass and punchy tracks,' he explains. 'The AWS doesn't have some of the dirtier artifacts that other mic pres have, but if a client wants some dirt, I can go to outboard gear, or pull up a plug-in. While it's really easy to dirty up your sound, it's not easy to find equipment to do what the SSL does and that is deliver crystal-clear audio. Everything always sounds great through the AWS.'
AWS gives Luksa the hybrid studio workflow, bringing together working in analogue and working inside the DAW. 'The thing that really drew me toward the AWS 948 is the ultimate blend of analogue workflow and DAW realities,' he says. 'I can't believe other console designers haven't thought this through, but with the flip of a button, I am jumping back into my DAW session to write automation, make adjustments, automate and then, flipping the button back to continue working in the analogue era. The AWS is the reason I can attract the best up-and-coming groups to The Rattle Room.'