Once a tobacco drying plant, the Mattorosso KMØ Restaurant & Live Bar is a landmark – both architectural and culinary in the Italian town of Montebelluna. The audio aspects of the conversion were handled by Leading Technologies with extensive use of Harman Pro brands. The building also incorporates one of Italy's biggest MI shops, Esse Music Store.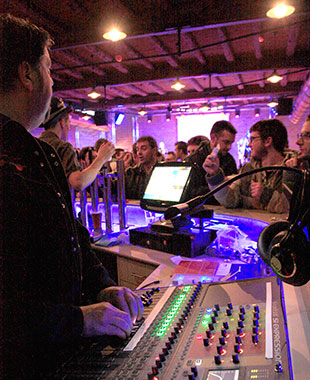 Venue managers Manuel and Claudio recall that when they first visited the site at the end of 2011 the brickwork was scored by lime and black carbon; but that the building's owners, Spolverato Umberto and Bressan Lorella, spared no effort in making it fit for its new purpose.'
Leading Technologies sound reinforcement spec for the 300-capacity venue was based on discussions with consultant, Paolo Michelini. These saw the building divided into two indoor zones and one external, ensuring that the sound generated in the live room could also be distributed evenly outdoors.
'The concept was straightforward,' says Leading Technologies Product Specialist, Marco Roveri. 'We looked at the project and listened to the owners' ideas before making our recommendations.'
At the main industrial entrance are four JBL Control 67P/T pendant loudspeakers suspended from the pitched corrugated roof. In the live room Leading Technologies specified four JBL VRX932LAP powered, compact 12-inch two-way line-array elements, flown two per side, and four ground-stacked VRX918SP bass reflex subs, recessed back into the stage. PRX612 self-powered 12-inch, two-way speakers and PRX415 15-inch two-way speaker are used for stage monitoring (with two of the latter deployed for drum fill).
Sound engineers have use of the Soundcraft Si Expression 2 mixing console, providing 24 recallable mic preamps and Madi optical card expansion, with I/O extended via a Compact Stagebox (32/16). The sound management is via a dbx DriveRack 260 – although Marco Roveri reveals that future plans are for the sound to be routed to a recording studio in another part of the building. To complete the roster of Harman Professional brands on display AKG K 240 MkII Professional Studio headphones have been provided for the sound engineers,
'Many companies competed for this contract as they wanted to work in that prestigious building, but the owners chose Leading Technologies for the brands they represent and the back-up they knew they would get,' Roveri says. 'They are extremely happy with the result – as were we, when we heard the system on the opening night.'
More:
www.soundcraft.com