Malaysia has a high profile among the star male and female vocalists that perform across Eastern Asia. Playing in their home country guarantees capacity audiences that are often served by Selangor-based Clef Productions – one of the leading companies in Malaysia's live production industry.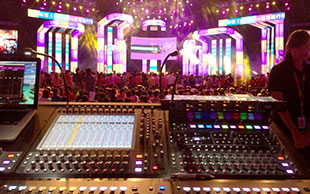 One of the company's most recent projects is Anuar Zain's Three Decades of, Music, Love & Passion, where the singer (famously also a steward for Malaysian Airlines) celebrated 30 years in the music industry with a sell-out 8,000-capacity Stadium Melawati performance and three DiGiCo SD10s from Clef Productions.
Clef owner Alvin Koh has been using DiGiCo desks since the launch of the original D5 before he began working with the SD Series – and has specified them for a series shows from some of Malaysia's biggest artists. For Anuar Zain, this meant one SD10 at FOH, one on monitors and a third providing a separate multitrack recording for broadcast and future release.
'What I most like about DiGiCo is the sound quality and the flexibility of how you can customise the work surface. Yet, at the same time, you have the benefits of the DiGiTuBes and the analogue style of the console's layout and workflow,' says Koh. 'It is so easy to record shows, either using a DiGiCo UB Madi interface (for up to 48 channels) or with the new DiGiGrid MGB for up to 128 channels, direct to an Ethernet port on a PC or Mac running any DAW.
Dubbed 'Asia's Simon Cowell', singer/songwriter Eric Moo had no trouble selling 8,000 seats at Kuala Lumpur's Stadium Putra recently, where a pair of SD10s were used for FOH and monitors.
One reason why Koh likes DiGiCo consoles is their ability to handle a large input channel count in a single desk, and this was a key consideration for the SD7 at FOH on four performances from Siti Nurhaliza at Kuala Lumpur's Istana Budaya (Palace of Culture). A regular winner of Asian singing competitions and music awards in Malaysia, her career has included live shows in the UK and Australia. Complementing the SD7 was an SD10 on monitors.
The high profile of these artists in their home country meant that Koh and his team were under a lot of pressure to deliver exceptional sound: 'I've been spoiled by DiGiCo's support, both technical and production related,' he says. 'James Gordon and Dan Page have been great, while distributor Team108 never fails to support me whenever I need it. I get to talk to real people who share the passion and understand the needs of a production. I feel they are always there, virtually next to me, whenever I use DiGiCo.'
More: www.digico.org