China's Hubei Business News Channel Network has moved further into HD broadcasting with the installation of a Soundcraft Vi4 digital mixing console.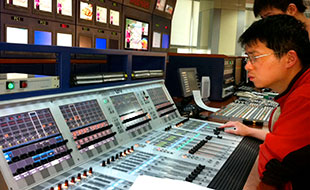 Hubei's highest-ranking network in terms of revenue for eight consecutive years, China's Hubei Business News reaches the entire Hubei province and has arguably the strongest influence of all media of the region.
The audio side of the upgrade was handled by Harman Pro distributor, Advanced Communication Equipment: 'The main reason we selected the Soundcraft Vi4 model for this project wass because it offers a perfect balance between price and performance,' says ACE VP of Broadcasting, Rico Fung .'Also, the touchscreen interface helps the workflow of operators during live broadcasting, as there are many things to monitor.'
The console is configured with 32 mic line inputs, 32 EAS/EBU digital inputs and 16 analogue outputs. Engineers at the network prefer also value its ease of use and scalability – the Vistonics touchscreen interface increases the amount of control available during live broadcasts, as everything is displayed clearly and intuitively. The sound is processed by the SCore Live DSP engine, providing superb signal quality.
'The Vi4 changes the concept of digital mixing consoles – having all this processing power as well as the intuitive layout allows the operator to focus solely on the mixing,' Fung says. 'After some general testing, we believe it is much easier to use when compared to our previous digital mixing console, making live broadcasting effortless.'
More:
www.acehk.com
More:
www.soundcraft.com