Nexo and PRG Europe to provide a production package for the LEA Awards – one of Germany's premier entertainment awards programmes. Visitors to the Festhalle (Hall 2) during the forthcoming ProLight & Sound 2014 expo will also have the opportunity to hear the Nexo and Yamaha system in action marking the start of the show.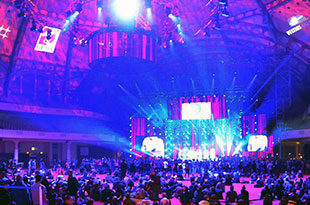 The PA and monitoring system package comprises a 24-cabinet STM Series modular line array at front-of-house and a 45°N-12 line monitor system on stage, networked over Dante with a complement of Yamaha CL Series consoles.
Sponsored by PRG, the Live Entertainment Awards (PRG LEA) recognise achievement in the entertainment industry in German-speaking countries. This year, around 1,300 guests – including many prominent celebrities – will see live performances and LEA trophy presentations.
In 2013, Nexo provided the PRG LEA Awards with a 45°N-12 stage monitor system. This time, the relationship with PRG has expanded to include the supply of the main house PA – providing an opportunity to showcase Nexo's new flagship system, the STM modular line array.
'PRG's awesome production facilities, a package worth over €0.5m on the open rental market, provide an extraordinary and impressive backdrop to three days of "soft" demonstration of the STM,' says Nexo Marketing Director, Ginny Goudy. 'Thousands of people will visit the Festhalle, and it's a great opportunity for Nexo to show them what we can do. It is also a special chance to team up with our parent company Yamaha to present publicly the true symbiosis between our respective technologies, in a fully networked new-generation concert sound system.'
Entry to the Festhalle is free during PL&S show hours 9am-6pm, although there may be queues for the popular backstage tours.
More:
ww.prg.com