Songwriter/producer Guy Chambers, has added a Universal Audio Apollo Quad audio interface and UAD-2 Quad DSP card to his new Sleeper Sounds studio in West London.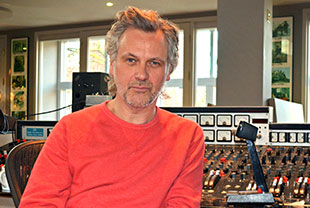 The new gear was specified by fellow producer Richard Flack, and supplied by KMR Audio, with UAD-2 Quad card incorporated into a Pro Tools HD set-up to give full access to a selection of UAD Powered Plug-Ins, including processors from Studer, Ampex, Lexicon, Neve, Manley, Roland and SSL.
The Apollo interface is fitted with the Thunderbolt interface option, and lives in a portable rack bag alongside a Universal Audio 6176 vintage channel strip. This part of the set-up goes wherever Chambers and his team choose to record. It's currently been put to good use at Robbie Williams' Los Angeles studio, where they are working on material for a new album.
Flack is unequivocal over the choice of UAD plug-ins: 'They sound better,' he asserts. 'Of all the plug-ins that I've used, I prefer the sound of the UA ones. They feel better as well – it feels like someone has really thought about how you want to use a piece of gear. I just love the way all the UA stuff works.'
The Apollo interface and Quad card complement an already impressive range of UA analogue hardware at Sleeper Sounds, including a second 6176 Vintage Channel Strip, a 2-610 Dual Channel Tube Preamp and 1176 Limiting Amplifier.
Best known for his prolific collaborations with Robbie Williams, Chambers is also currently writing with Rufus Wainwright and Swedish vocalist Karin Park, and is penning his own children's opera, called
The Selfish Giant
.
More:
www.kmraudio.com