A new Russian Government TV channel launched in May 2013, The Public Television of Russia has equipped its Moscow facility with Calrec Artemis Light digital audio consoles, which are now being used to produce a variety of news, cultural, and magazine programmes.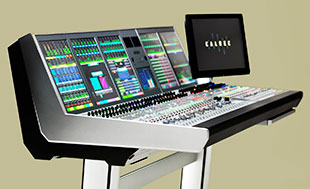 The station purchased four 32-fader Artemis Light consoles with and Hydra I/O, allowing them to be networked over Calrec's Hydra2 routing system.
'We can configure any combination we need for any production, and send any source to any output of any console, so we can easily pass productions from one studio to another with full redundancy of interfaces, Hydra connections and consoles,' says Chief Technical Director, Pavel Ozhiganov. 'A decentralised system makes it possible for us to connect our mics anywhere on the network for inter-studio productions.'
The network allows each studio to handle different programmes, making the facility flexible and efficient. Additionally, having the desks interconnected gives full system redundancy. Networked Stageboxes in each studio also give extra flexibility across the facility.
Systems integrator Professional Television Systems handled the project, including system design, training, delivery, and support: 'Launching this channel with a short timeline we couldn't afford to take risks, so it was important to install proven equipment that is known in the industry for its reliability and performance with the support to back it up,' Ozhiganov says. 'With Calrec, we got a well-respected product with optimal architecture for our situation, as well as high-level training, within our budget and delivery schedule.'
Using Calrec's Hydra2 technology and Bluefin2 signal processing gives the consoles 240 channel processing paths with up to 128 programme buses, 64 IFB/track outputs and 32 auxiliaries in a 4U-high enclosure. The console's integrated router allows all I/O functions to be performed by Hydra2, using high-capacity 8192² crosspoint routers and a variety of I/O units.
'The Public Television of Russia studios were built from the ground up for maximum flexibility and efficiency, and it's gratifying that Calrec played such an important role in that design,' says Calrec European Sales Manager, Michael Reddick. 'Calrec consoles give the station the infrastructure and stability needed to deliver solid audio on every programme.'
More: www.calrec.com