Cadac has appointed Soinua Pro as its distributor for Spain and Portugal.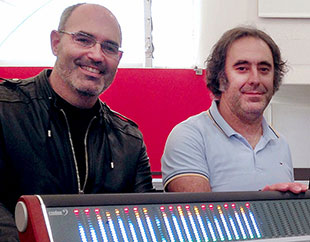 'It was a strategic decision in order to more effectively focus our distribution on the live production sector,' explains Cadac Brand Development Manager, Richard Ferriday. This is where Soinua is especially strong, being heavily involved with sound touring and live event production throughout Spain.'
The appointment sees Cadac switch its distribution to the Basque based sound touring and installation specialist, headquartered precisely between Bilbao and San Sebastián.
'The aim of our company is not to carry an expansive range of brands but to have a highly select and complementary portfolio of products, chosen purely on the basis of quality,' says Soinua General Manager, Jorge De La Torre states We were looking for a high-end mixer manufacturer to partner other represented marques like Lab.gruppen and TWAudio. We wanted a brand where we can believe 'this really works' and with a good team of professional people behind it. Cadac was a perfect fit.
'The touring and installation markets are very important for us. The CDC four – and in the near future, the CDC eight – will serve very important clients extremely well for ST, event, installation and theatre sound applications.'
Soinua has been quick to secure sales of both the digital CDC four and analogue Live1 compact consoles. Most recently Soinua supplied a CDC four for FOH on the reformation tour by leading Basque rockers Lin Ton Taun. The tour, marking the band's reformation after a ten-year hiatus, is currently playing across the Basque region before going national in the summer and throughout the rest of the year.
The console won the placement after Soinua demonstrated its sonic quality: 'The CDC four was chosen for the quality of the EQ and the preamplifier section, along with the 96kHz operation,' say Soinua Technical Managers, Anselmo Calleja and Eneko Larrañaga. 'With 16 channels using preamps of that quality it was all that was needed. It was all down to the sound quality of the desk; the compact form and the portability was an additional bonus.'